Over 140 delegates from 80 organisations and 24 countries came together for The Holography Conference in Shanghai, which took place in December 2015.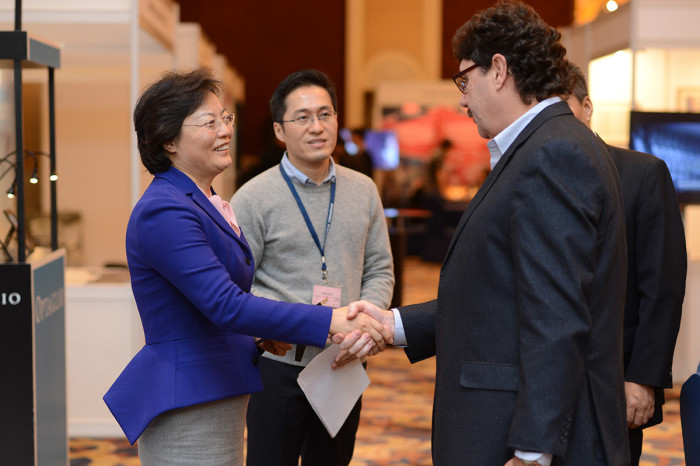 Downloads
Attendees can access selected presentations and audio recordings
Download presentations
You will need the username and password provided at the event. Contact us if you need help accessing the downloads site.
Attendees
The organisations taking part in Shanghai in December 2015
Andrews & Wykeham (UK)
API Holographics (UK)
Authentication Solutions Protection Association - ASPA (India)
Bank of Israel
Bauman Moscow State Technical University (Russia)
Beijing Hope-Rainbow Technology (China)
Beijing Zhongguang Hengtai Cultural Communication (China)
Bowater Industries (UK)
Chanwanich Security Printing (Thailand)
Chengdu Jintom Security Printing (China)
China Trade Association for Anti-Counterfeiting - CTAAC
China-Britain Business Council (China)
Combustion Ingenieros (Colombia)
Computer Holography Centre (Russia)
De La Rue (UK)
Demax Holograms (Bulgaria)
Deutsche Bundesbank (Germany)
DiARTs (Switzerland)
DNP Asia Pacific (Singapore)
Eton Technologies (China)
Federal State Unitary Enterprise 'STC" Atlas' (Russia)
Foshan Sanjian Packaging Co. (China)
FPY. Holographic Technologies (Russia)
Giriraj Foils (India)
Guangdong XinRui New Material Technology (China)
Hellenic Institute of Holography (Greece)
Henan Province Wellking Technologies (China)
Holo-Source Corporation (USA)
Hologram Company Rako (Germany)
Holographic Security Marking Systems (India)
Holostik India
Holotek Optronics (Zhuhai) Co. (China)
Hucais (China)
Idvac (UK)
IHMA (UK)
Impresora Silvaform (Mexico)
InterCrim-Press (Russia)
IQ Structures (Czech Republic)
Krypten Research & Production (Russia)
L-3 Communications EOTech (USA)
Lazos Internacionales (Mexico)
Morphotonix (Switzerland)
MTM (Turkey)
Nanotech Security Group (Switzerland)
Nanotexx (Germany)
National Bank of Ukraine
NovaVision (USA)
O'TEC (Japan)
OpSec Security Group (UK)
Optaglio (Czech Republic)
Optaglio Limited (UK)
Optrace (Ireland)
Pacific Holographics (USA)
Polish Holographic Systems (Poland)
Polygrama (USA)
Process Color (India)
PT Jasuindo Tiga Perkasa Tbk (Indonesia)
PT Pura Barutama (Indonesia)
Sectago (Germany)
Securikett (Austria)
Shanghai Baolv Packaging Materials Technology (China)
Shanghai Guanzhong (China)
Shanghai Hongdun Anti-Counterfeit Material Co. (China)
Shanghai Techsun Anti-Counterfeiting Technology Holding Co. (China)
Shanghai Zijiang Metallization Environmental Protection Material Co. (China)
Shaoxing Jinghua (China)
Shenzhen Shenda Aurora Technology Co. (China)
Spectra Holo (India)
St Petersburg State University (Russia)
Stardust Europe (Estonia)
SVG Optronics (China)
Tasnim Trace (UAE)
tesa scribos (Germany)
TOPTICA Photonics (Germany)
UFLEX (India)
Wood & Associates (China/USA)
Wuhan Huagong Image Technology & Development Co. (China)
Xi'an Xizheng Printing (China)
Yunnan Holobeam Security Technology (China)
Zhongchao Special Security Technology Co. (China)
Event photos
The 2015 Programme
Thursday 03 December
Session OneThe Chinese Holographic Landscape
China Trade Association for Anti-Counterfeiting (CTAAC) (China)

Welcome Address

Rongwu Yin, CTAAC - China Trade Association for Anti Counterfeiting (China)

Current Situation and Development of China's Anti-counterfeiting Industry

Mark Deakes Reconnaissance International (UK)

The Holography Industry's Place in the Global Perspective

Tom Duke China Britain Business Council (China)

Protecting Your IP in China

Xiu-Ding Chen Reconnaissance International (Germany)

The Do's and Don'ts of Doing Business in China

Mike Messmer International Hologram Manufacturers Association (US)

The New Hologram Image Register (HIR) and the IHMA in China

XiaoDong Liu Henan Wellking Technologies Development (China)

Table Salt Verification – a Long-Running, Large Volume Case Study
Session TwoSecurity Holograms and Standards
Kai Sun Zhongchao Special Security Technology (China)

High Security Products Combining Surface-Relief Structures and Reflective Coatings

Astrid Mitchell Currency News (UK)

Holograms For Currency

Paul Dunn OpSec Security (UK)

Integration of Diffractive and Colour Shifting OVDs

Max Zolotukhin Andrews & Wykeham (UK)

HOLOSEAL™ – Bullet Proof Mobile Authentication

Chander Jeena Authentication Solutions Providers Association (ASPA) (India)

Use of Holograms As Security and Authentication Devices in India

Roman Nahálka Optaglio (Czech Republic)

Computer Generated Hologram - CGH AS A New Graphical and Security Feature in Embossed Secure Holograms

Ian Lancaster Reconnaissance International (UK)

ISO 14298 Management of Security Foil Production
Friday 04 December
Session ThreeMaterials, Manufacture and Quality
Tomson Chen Sanjan Packaging (China)

The Hologram Embossing and Gravure Printing Line

Paul Dunn OpSec Security (UK)

Going Green – the Importance of Sustainable Manufacturing in Holography

Glenn Wood Wood & Associates International (China/US)

UV Embossing – New Generation Optical Surfaces for Packaging

André Jacobovitz Polygrama (Brazil)

A Photopolymer for Hologram Producers

Ricardo Amézquita Combustión Ingenieros (Colombia)

Dots per Inch - A Meaningless Criterion of Hologram Quality?

Wilfried Schipper Nanotexx (Germany)

Roll-2-Roll Nano-Imprint Lithography
Session FourInnovations in Hologram Applications
Alkis Lembessis Hellenic Institute of Holography (Greece)

The Attack of OptoClones®: The Making of the Bowater Collection of Fabergé Holographic Optical Clones

Pawel Stepien Polish Holographic Systems (Poland)

Solar Cell Structures from a Hologram Mastering System

Veronica Savu Morphotonix (Switzerland)

Additive-Free Product Embedded Security

Nadir Ahmed Idvac (UK)

Narrow Width Vacuum Web Coater for Advanced Holographic Applications
Thank you to our sponsors and exhibitors
Platinum
China Banknote Printing and Minting Corporation (CBPM)
Silver
DiArts
Giriraj Foils
Optaglio
Sanjan Packing Machinery
Wood & Associates International
Association
IHMA
China Trade Association for Anti-Counterfeiting
Exhibitors
Combustion Ingenieros
Computer Holography Centre
Demax Holograms
Krypten
Optrace
Polish Holographic Systems