The Holography Conference 2016 took place in Warsaw, Poland from 29-30 November. It saw 132 delegates from 33 countries come together to discuss the latest innovations, developments and trends in commercial holography, from security and authentication to design and display.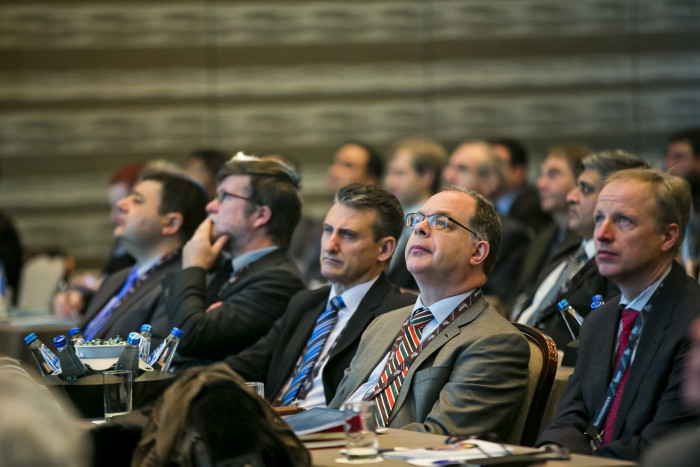 Download presentations
Attendees can access selected presentations and audio recordings
See who attended
Find out which organisations joined us in Warsaw
Presentation Downloads
You will need the password provided at the event. Contact us if you need help accessing the downloads site.
See who attended the 2016 conference
Alan Hodgson Consulting (UK)
Astellas Pharma (Japan)
Authentication Solution Providers' Association (ASPA) (India)
Azar Hologram (India)
Bangladesh Tariff Commission
Bank of England
Bank of Israel
BASF Schweiz (Switzerland)
Bauman Moscow State Technical University (Russia)
BEP Hologram (Turkey)
Bowater Industries (UK)
Bundespolizeiprasidium (Germany)
Canadian Banknote Company
collIDe Consult (USA)
Combustión Ingenieros (Colombia)
Computer Holography Centre (Russia)
Defence Science & Technology (UK)
DEMAX Holograms (Bulgaria)
Deutsche Bundesbank (Germany)
DiARTs (Switzerland)
Divya Impex (India)
European Central Bank (Germany)
Federal Office of Police (Switzerland)
FNMT - RCM (Spain)
Formas Inteligentes (Mexico)
FPY. Holographic Technologies (Russia)
Geola Digital Lab (Lithuania)
Giriraj Foils (India)
Hansholo Consulting (UK)
Hazen Paper Company (USA)
HOLOART HI-TECH (China)
Hologram Company (Germany)
Hologram.Industries Research (Germany)
HoloGrate (Russia)
Holostik India (India)
Hueck Folien (Austria)
Idvac (UK)
Innovia Security (Australia)
IQ Structures (Czech Republic)
Istituto Holográfico Terrasun (Spain)
Istituto Poligrafico E Zecca Dello Stato (Italy)
KBA-NotaSys (Switzerland)
Keesing Technologies (Netherlands)
Krypten (Russia)
Kumbhat Holographics (India)
Leonhard Kurz (Germany)
LK Forensic Competencies (Switzerland)
MACHOVIA Technology Innovations (Czech Republic)
Morphotonix (Switzerland)
MTM Holografi (Turkey)
Nanotech Security Corp (Canada)
Narodowy Bank Polski (Poland)
National Bank of Belgium
NovaVision (USA)
OpSec Security Group (UK)
O'tec (Japan)
Pacific Holographics (USA)
Papierfabrik Louisenthal (Germany)
Polish Holographic Systems (Poland)
Polish Security Printing Works (Poland)
Rasik Products (India)
Reef House (Jordan)
Rolic Technologies (Switzerland)
SAUERESSIG (Germany)
SC Zoom Soft (Romania)
Securikett Ulrich & Horn (Austria)
Service of Technological Security of State Documents (Lithuania)
STC "Atlas" (Russia)
Stensborg (Denmark)
SURYS (France)
Uflex (India)
Umicore Thin Film Products (Liechtenstein)
University of Lausanne (Switzerland)
UPS2 (UK)
Wood & Associates (USA)
2016 Gallery
2016 Programme
Over 25 expert speakers joined us at the event to present on a diverse range of topics, including the following sessions:
'Modern' Holograms, Nano-Optical Security and the KineMax story
New Dimensions for Holography
Innovations in Origination, Materials and Printed Features
Next Generation Holographic Features and Production Techniques
Panel Discussion – OVD Foil Features in Polymer Banknotes
OVDs for Banknotes
DOVIDs for Identity
Revenue and Brand Protection
Download the event brochure to see the full speaker list.
We were also delighted that our Honorary Sponsor, PWPW, provided a post-conference tour of their facilities to 30 delegates after the conference closed on Thursday morning.
2016 Sponsors and Exhibitors
We were joined by a number of sponsors and exhibitors at the event in our exhibition hall. Thank you to all of the organisations who joined us – your support makes the event so unique within the industry.
Honorary – Polish Security Printing Works (PWPW)
Gold – Polish Holographics Systems
Silver – DiARTS, Giriraj Foils Pvt Ltd
Association – IHMA
Exhibitors – Computer Holography Centre, IQ Structures, International Tax Stamp Association, Krypten, Morphotonix