The 14th High Security Printing Asia conference took place in Jakarta, Indonesia in December 2015.
The event brought together 250 delegates from 92 organisations to learn from leaders in the industry in a series of illuminating seminars, case studies, policy briefings and technology presentations.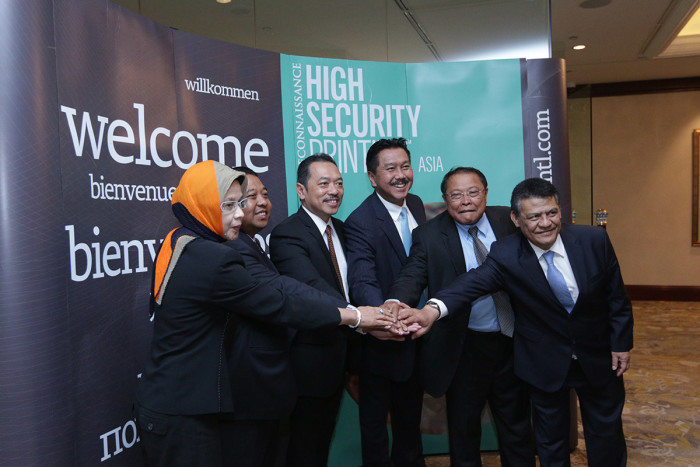 Download presentations
Attendees can access selected presentations and audio recordings
Download presentations
You will need the username and password provided at the event
Attendees
Organisations attending High Security Printing Asia in Jakarta included:
Actilor Management (Hong Kong)
Advanced Track and Trace (ATT) (France)
AGIS Consulting (France)
Andrews & Wykeham (UK)
APO Production Unit (Philippines)
Arjowiggins Security (France)
Art-Line Projekt (Germany)
Atlantic Zeiser (Germany)
Bangko Sentral ng Pilipinas (Philippines)
Bank Indonesia
Bank Negara Malaysia
Bank of Algeria
Bank of Korea
Bank of Thailand Note Printing Works
Bank of Uganda
Beijing Sino-Mv Technologies (China)
Bharatiya Reserve Bank Note Mudran (India)
Bundesdruckerei (Germany)
Central Bank of Oman
Central Bank of the UAE
China Banknote Ink Co
Corit International (Austria)
Crane Currency (Sweden)
Crane Payment Innovations (USA)
Currency Research (Malaysia)
Dai Nippon Printing Co (Indonesia)
das-Nano (Spain)
DataTraceID (Australia)
De La Rue (UK)
DNP Asia Pacific (Singapore)
Entrust Datacard (Singapore)
Evolis Asia (Singapore)
Federal Board of Revenue (Pakistan)
Federal State Unitary Enterprise GOZNAK (Russia)
FNMT – RCM Asia (Philippines)
Giesecke & Devrient (Germany)
Gietz (Switzerland)
Gleitsmann Security Inks (Germany)
Government Printing Department (Zambia)
Hague Print (UK)
Holtronic Technologies (Switzerland)
Hueck Folien (Austria/Hong Kong)
ICIC (Singapore)
Jabatan Kastam Diraja (Malaysia)
Joh. Enschedé Security Print (Netherlands)
Jura JSP (Austria)
Kenya Bureau of Standards
Komori Currency Technology – Komori Corporation (United Kingdom)
Kugler-Womako (Germany)
Landqart (Switzerland)
Leonhard Kurz Stiftung & Co (Germany)
Luminescence International (UK)
Melzer Maschinenbau (Germany)
Ministry of Defence (Uganda)
Ministry of Railway, Government of India
Mühlbauer GmbH & Co (Germany/Malaysia)
National Printing Bureau (Japan)
New ProImage (Israel)
Oberthur Fiduciaire (France/United Kingdom)
Oesterreichische Banknoten und Sicherheitsdruck (Austria)
Optaglio (UK)
Orell Füssli Security Printing (Switzerland)
OVD Kinegram (Singapore/Switzerland)
P.T. SICPA Peruri Securink (Indonesia)
Pagemark Technology (USA)
Papierfabrik Louisenthal (Germany)
PARVIS Systems and Services (Italy)
Paul Leibinger (Germany)
PCH Seiler-Anlagentechnik (Austria)
PERCEVAL Consulting (Hong Kong)
Perum Peruri (Indonesia)
Petrel (France)
Polish Security Printing Works (PWPW)
PPG Malaysia
PT Intiguna Putra Mandiri (Indonesia)
PT Pura Barutama (Indonesia)
Regula Baltija (Belarus)
Royal Dutch Kusters Engineering (Netherlands)
Royal Monetary Authority of Bhutan
Schmid Rhyner (Switzerland)
Secura Monde International (UK)
SICPA (Switzerland)
SICPA Product Security Sdn Bhd (Malaysia)
SPM – Security Paper Mill (Czech Republic)
State Bank of Pakistan
SURYS
Water Treatment (Austria)
Zeon Corporation (Japan)
Images
The 2015 Programme
Monday 7 December
Pre-Conference SeminarTravel and Identity Documents – From Design to Verification
Pre-Conference SeminarBanknotes and Machine Readability
Pre-Conference SeminarEYE 4 ID – Checking Identity and Travel Documents the Traditional Way
Tuesday 8 December
WelcomeThe Regional Secure Document Landscape
Dr Prasetio CEO, Perum Peruri (Indonesia)

Welcome Address

Ronald Waas Deputy Governor, Bank Indonesia (Indonesia)

Keynote Address

Rini Soemarno Minister of State Owned Enterprises (Indonesia)

Keynote Address
Session OneMade In Indonesia
Mr Subandrio Perum Peruri (Indonesia)

The New Generation Banknote Manufacturing Lines - Marking 44th Anniversary of Perum Peruri

Ronald H Sinaga Perum Peruri (Indonesia)

Benchmarking Banknote Products

Sari Puspitaningrum Perum Peruri (Indonesia)

The New Indonesian E-Passport

Mr Suparman Perum Peruri (Indonesia)

E-Banknotes - A Near Future Dream?
Session TwoCurrency Developments
John Lucas SICPA (Switzerland)

Extending the Banknote Lifespan

Kanako Sasamoto National Printing Bureau (Japan)

Efforts to Enhance Identifiability of Bank of Japan Notes

China Banknote Printing and Minting Corporation

Technology Meets Art: New Commemorative Macau Banknotes

Mandyam Narasimha Bharatiya Reserve Bank Note Mudran (India)

Sustained Excellence in Banknote Production
Session TwoNational Identity & E-Passport Programmes
Alexander Derricott IHS Technology (UK)

E-ID and E-Passport Markets in APAC and MEA

Babatunde Anifiwoshe & Peter Iwegbu National Identity Management Commission of Nigeria

Secure Identity for Everyone: Nigeria's Universal ID and Payment Card Scheme

Allan Malcolm HID Global (USA)

The Angola National ID Card Programme – A Cornerstone of Citizenship and a Building Block of Democracy

Bahjat Aman IRIS Corporation (Malaysia)

Beyond Identity: Tanzania's National E-ID Programme
Session ThreeNext Generation Currency Features
Samuelson Roy Purba & Christian Lydiarto PT Pura Barutama (Indonesia)

New Advances in Security Threads to Fight Counterfeiting and Forgery

Nicolas Normand Arjowiggins Security (France)

Security Threads: The Latest Developments in Dynamic Optical Effects

Evgeny Veselov Goznak (Russia)

Advanced Technologies for New Generation Banknotes

Thomas Hendle KBA-NotaSys (Switzerland)

Modern Platforms to Increase Banknote Security
Session ThreeDevelopments in Travel & Identity Document Features
Gautam Paul IAI Industrial Systems (Netherlands)

Trends in Passport Issuance and Integrated Security Features

Corinne Murcia Giudicelli Hologram Industries (France)

Holograms But Not Just a Pretty Face

Masayo Mouri Dai Nippon (Japan)

Lipmann Holograms Hot Stamping Foil for Identity Documents

Nick Cooper Luminescence (UK)

New Developments in Security Inks and Threads for Passports
Wednesday 9 December
Session FourDesign and Production
Barna Barabas Jura (Hungary)

The Corvina Software Family

Richard Perera Landqart (Switzerland)

Designing for New Substrates

Phil Holland Komori Currency Technology (Japan)

Manufacturing a House Note Using Modern Techniques and Equipment

Martin Joksch PCH Seiler (Austria)

Economical and Ecological Impacts on Wiping Solution
Session FourPersonalisation & Verification
Matthias Koehler Muehlbauer (Germany)

Revolution of Document Personalisation Technology

Zbigniew Sagan Advanced Track & Trace (France)

Could Printed Security Codes Challenge Chip Based Solutions?

Carsten Mueller Veridos (Germany)

ICAO PKD – Higher Travel Security

Michael van Gestel Keesing Technologies (Netherlands)

Checking Travel and Identity Documents - How Good Are We?
Session FiveCurrency Lifecycle
Jonathan Ward Secura Monde International (UK)

Regional Developments in Currency and Payments

Mr Suhaedi Bank Indonesia

Currency Distribution in Indonesia

Robert Morrow Crane Payment Innovations (USA)

Even Machines Need Specimens

Guillaume Lepecq Agis Consulting (France)

Beyond Payments - The Benefits of Cash to Society
Session FiveNext Generation Identity Documents & Systems
Jean-Baptiste Milan Arjo Systems (France)

Everything You Always Wanted to Know about Building E-ID Systems (But Were Afraid to Ask)

Henry Leung Entrust Datacard (Hong Kong)

Taking a Holistic Approach to Government ID Programmes

Gabor Veroci Gemalto (France)

Polycarbonate: Today's Innovations for Next Generation Documents

Fadi Saadallah KBA-NotaSys (Switzerland)

Innovations in Printing for Next Generation Travel Documents
Session SixTechnology & Innovation
Eduardo Azanza Das-Nano (Spain)

Cutting-Edge Technologies for an Everlasting Industry

Peter Muehlfelder Kurz (Germany)

Latest Innovations in Banknote Foil Security and Their Anti-Counterfeiting Advantages

Florian Haider Hueck Folien (Austria)

Gold and Silver Meet Holography

Tim Merchant YPB Group (Australia)

Covert Markings and Smart Phone Authentication
Thursday 10 December
Post-Conference TourPerum Peruri printworks
Thank you to our sponsors and exhibitors
Gold Sponsor
China Banknote Ink
Crane Currency
KBA-NotaSys
Komori Corporation
Pura Group
OVD Kinegram
SICPA
SURYS
Exhibitors
Advanced Track and Trace
AGFA Graphics
Art-Line Projekt
Atlantic Zeiser
Das Nano
Entrust Datacard
Evolis
Gleitsmann Security Inks
Hague
Hueck Folien
Jura JSP
Kugler-Womako
Landqart
Leibinger
Luminescence International
Melzer
Pagemark
PARVIS
Petrel
PCH – Seiler Systems Engineering
Regula
The conference also played host to the Regional Banknote and ID Document of the Year awards