The 15th High Security Printing Asia conference took place in the beautiful city of Singapore in December 2016.
The event brought together 282 delegates from 133 organisations to learn from leaders in the industry in a series of illuminating seminars, case studies, policy briefings and technology presentations.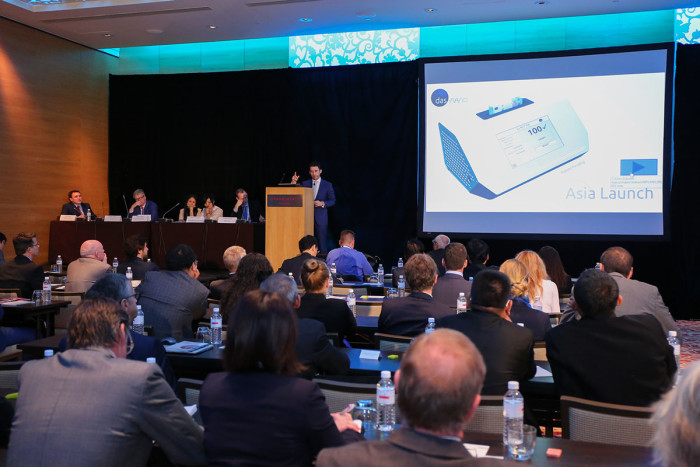 Download presentations
Attendees can access presentations (where permission has been given)
Download presentations
You will need the username and password provided in your copy of the proceedings.
See who attended the 2016 conference
3H Company (Taiwan)
ACTILOR (Hong Kong)
Agfa Graphics (Belgium)
AGIS Consulting (France)
Andrews & Wykeham (UK)
APO Production Unit (Philippines)
Arjo Systems (France)
Arjowiggins Security (France)
Atlantic Zeiser (Germany)
Australian Department of Foreign Affairs And Trade
Australian Passport Office
AVDSolutions (Netherlands)
Bangladesh Election Commission
Bangladesh Tariff Commission
Bank Indonesia
Bank of Japan
Bank of Thailand
Banque Centrale de la République de Guinée (Guinea)
Beijing Kesiyuan Technology (China)
Beijing Sino-Mv Technologies (China)
BRBNMPL (India)
Bundesdruckerei (Germany)
Cattaneo Meccanica (Italy)
CBPM-Kexin (China)
Central Bank of Iraq
Central Bank of Mongolia
Central Bank of Oman
Central Bank of Sri Lanka
Crane Currency (USA)
Crane Payment Innovations (USA)
Currency Research (Malaysia)
Dai Nippon Printing (Japan)
das-Nano (Spain)
Dataform Media (Austria)
De La Rue (UK)
Deutsche Gesellschaft für Internationale Zusammenarbeit (Germany)
DNP Asia Pacific (Singapore)
Entrust Datacard (Singapore)
Evolis Asia (Singapore)
Farnbeck Limited (UK)
Federal Board of Revenue (Pakistan)
FNMT - RCM (Spain)
Gemalto Asia (Singapore)
Giesecke & Devrient (Germany)
Gietz (Switzerland)
Gleitsmann Security Inks (Germany)
GOZNAK (Russia)
Heinz Ziegenbein (Germany)
HID Global (Germany)
Hong Kong Police
Hueck Folien (Austria)
Huizhou Foryou Optical Technology (China)
Hunkeler Systeme (Switzerland)
IAI Industrial Systems (France)
ICIC Singapore (Singapore)
Identity Malta Agency
IICT (Bangladesh)
In-Core Systèmes (France)
Independent Consultant (Kyrgyzstan)
Infineon Technologies (Germany)
Innovia Security (Australia)
Integra 8 (Philippines)
IQ Structures (Czech Republic)
Iris Corporation Berhad (Malaysia)
Joh. Enschedé Security Print (Netherlands)
Jura JSP (Hungary)
KBA-NotaSys (Switzerland)
Keesing Technologies (Netherlands)
Keit (Bulgaria)
Kenya Bureau of Standards
Kenya Immigration
Komori Corporation (Japan)
Krypten Research & Production (Russia)
Landqart (Switzerland)
Leonhard Kurz (Germany)
Luminescence International (UK)
Macau SAR Identification Services Bureau
MaskTech (Germany)
Mediopia Tech Corp. (South Korea)
MELZER (Germany)
Ministry of Defence (Singapore)
Ministry of Finance (Afghanistan)
Ministry of Home Affairs (Singapore)
Mongolia Information Technology Authority
Mühlbauer Group (Malaysia)
National ID Management Centre, Ministry of Home Affairs (Nepal)
Netherlands Royal Marechaussee
Note Printing Australia
Oberthur Cash Protection (France)
Oberthur Fiduciaire (France)
Oberthur Technologies (France)
Orell Füssli Security Printing (Switzerland)
OVD Kinegram (Switzerland)
Parvis (Italy)
Paul Leibinger (Germany)
PCH Seiler-Anlagentechnik (Austria)
Percetakan Keselamatan Nasional Sdn Bhd (Malaysia)
Perceval (Hong Kong)
Perum Peruri (Indonesia)
Petrel (France)
PNO Global (Netherlands)
PolyTeQ (UK)
PPG Malaysia (Malaysia)
PWPW (Poland)
Reserve Bank of Australia
Royal Malaysia Police
Royal Monetary Authority of Bhutan
Schepers (Germany)
Schoen + Sandt Machinery (Germany)
Sectago (Germany)
Secura Monde International (UK)
Security Identification Union (China)
Security Papers Europe (UK)
SICPA (Switzerland)
Smart Packaging Solutions (France)
SMARTRAC Technology (Thailand)
State Bank of Vietnam
SURYS (France)
The Royals International (Pakistan)
Toppan Printing (Singapore)
TROY Group (USA)
U-NICA (Hong Kong)
US Department of State (USA)
U-Sine Security Printing (Taiwan)
Water Mark Publishing House (Russia)
Zeon Corporation (Japan)
Below are a selection of images from the event
The 2016 Programme
Monday 5 December
Pre-Conference SeminarDurable Banknotes: Make a Counterfeiter's Day!
Pre-Conference SeminarHow do We Authenticate ID Documents at First-Line Inspection – the Basics of Document Checking
Tuesday 6 December
Session OneHigh Security Documents in Asia-Pacific – A Regional Perspective
Gerben van Wijk, International Currency Association

The Core of Cash - Choice and Inclusion for All

James Holloway, Reserve Bank of Australia (Australia)

Australia's New $5: from Concept to Circulation

Dinesh Bhattarai, National ID Management Centre, Ministry of Home Affairs (Nepal)

Delivering Quality Services to All Citizens through National ID Card – Nepal's National eID Programme
Session Two - CurrencyChallenges and Triumphs of Issuing New Banknotes
Uyen Thi To Nguyen, State Bank of Vietnam

Celebrating History and Technological Achievement through a Commemorative Note – Vietnam's 100 Dong

Aleksei Faleev, Independent Consultant (Kyrgyzstan)

Selecting Public Features for New Banknote Family – A Central Bank's Perspective

Martin Arkwright, Secura Monde International (UK)

Trends in Design and Security Features for Currency

Eduardo Azanza, das-Nano (Spain)

Cutting Edge Technologies for an Ever Lasting Industry
Session Two - ID and Secure DocumentsNew Initiatives in National eID and ePassport Programmes
Md. Elias Bhuiya, Bangladesh Election Commission

Enhancing Access to Government Services – Bangladesh's National eID Card Project

Chris Ng, Macau SAR Identification Services Bureau

Creating Ultimate Security and Convenience for Citizens - Macau SAR Resident Identity Card Programme

Turialai Wafa, IRIS Corporation (Malaysia)

Senegal eID: Enabling Fair Election Through Secure Identification

Michael Dalumpines, Department of Foreign Affairs & APO Production Unit (Philippines)

The New Philippines ePassport Journey
Session Three - CurrencyThe Evolving Landscape in Banknote Security
Johannes Schaede, KBA NotaSys (Switzerland)

Magnifying the Microscopic, A New Approach to Security Features

Sun Xianlin, Beijing Kesiyuan Technology (China)

Innovation in Security Fibers

Olga Andronova, Goznak (Russia)

Optically Variable Features Based on Traditional Technologies

Xavier Borde, Oberthur Fiduciaire (France)

Avalon – The Next Step in Fluorescence

Martina Steinhauser, KURZ (Germany)

A Competitive Edge Against Counterfeiting
Session Three - ID and Secure DocumentsNext Generation Features for Today's Identity Documents
Kelvin Lim, Imprimerie Nationale (France)

IN Nautilus™ - A New Passport Hinge Technology for Polycarbonate Datapage

Vincent Gourmelen, Arjo Systems (France)

Windows in Polycarbonate Documents - Futile or Not?

Robert Dvorak, IQ Structures (Czech Republic)

A New Approach Combining Overt and Covert Optical Protection for Polycarbonate Documents

Agata Wojciechowska, Polish Security Printing Works (Poland)

Polycarbonate Document Personalisation Ensuring Security

Xavier Declerck, Oberthur Technologies (France)

LASINK™ – Secure Colour Personalisation for Polycarbonate Documents
Wednesday 7 December
Session Four - CurrencyFrom Paper to Finished Notes – Production and Quality Control
Barna Barabas, Jura (Hungary)

Advantages of Direct Digital Intaglio Plate-Making

Phil Holland, Komori Currency Technology (Japan)

Combining Processes and Technologies – the Way Forward in Banknote Printing

Nathon Liu, Sino-Mv Technologies Group (China)

Quality Management of Security Printing Process Using Machine Vision

Michele Popovic, In-Core Systemes (France)

Innovative Automatic Banknote Batch Qualification; Development Done in Collaboration with Banque de France
Session Four - ID and Secure DocumentsID Documents in Practice – Authentication and Border Control
Christophe Dumusois, SICPA (Switzerland)

Authentication through User-Focused Designs: The Case of an Innovative Printed Optical Feature

Patricia Moss, Australian Passport Office, Department of Foreign Affairs and Trade

Considering Fraud Methodologies in the Design of Australian Passports

Hans de Moel, Royal Netherlands Marechaussee

Limitations of Document Inspection Systems

Alex van Duuren, AVD Solutions (Netherlands)

eGates Versus Manual ID Document Authentication and Biometric Verification
Session Five - CurrencyTowards Longevity and Integrity in Cash
Tianyi Chen, CBPM-KEXIN (China)

Ensuring Banknote Integrity through Effective Management of the People Factor in Printing Process

John Lucas, SICPA (Switzerland)

Central Banks Set the Stage for Banknote Durability and Security

Holger Krumm, PolyTeq Services, Innovia (Australia)

Guardian® Banknote Substrate: An Open Platform

Karl-Heinz Strasser, Giesecke & Devrient (Germany)

Security Features – Integration of Machine Readable Concepts
Session Five - ID and Secure DocumentsNew Dimensions in Secure Citizen Identity
Mitchell DeYoung, SMARTRAC (Thailand)

How to Digitise Vital Records on the Blockchain

Allan Malcolm, HID Global (Malaysia)

The Intersection of Secure Physical IDs and Mobile IDs – Empowering Citizens as Never Before

Alexandre Benjamin, SURYS (France)

Innovation in Embedding for Polycarbonate Documents

Sascha Fuls, OVD Kinegram (Switzerland)

Document Verification on a New Level: Combining the Physical and Digital Worlds
Session Six - CurrencyThe Now and the Future of Cash in Use
Tom Buitelaar, PNO Global (Netherlands)

Snowfish – A New Tool to Optimise the Used Note Sorting Process

Olivier Rives-Georges, Oberthur Cash Protection (France)

Ink Staining Protection against ATM Attacks: The International Benchmark and the Malaysian Experience

Guillaume Lepecq, AGIS Consulting (France)

The Future of Cash - an Asia Perspective
Session Six - ID and Secure DocumentsBeyond Identity – Developments in Secure Documents
Aftab Baloch, Pakistan Federal Board of Revenue

High Security Printed Documents in Pakistan

Nick Cooper, International Tax Stamp Association (UK)

New Solutions for Tax Stamps – Security and Traceability

Georgi Zelew, KEIT (Bulgaria)

New Approaches to Document Security
Session SevenTechnology and Innovation for Next Generation Security
Stephan Bruening, Schepers (Germany)

High Precision Processing System for Intaglio Plates Based on Laser Technology

Antonio Olmos, FNMT (Spain)

Nanotechnology in Security Paper

Frank Seils, Sectago (Germany)

AgilLite: A Novel Security Feature for High Security Documents
Many thanks to our 2016 Sponsors and Exhibitors
Many thanks to the following sponsors and exhibitors for taking part in our wonderful exhibition running alongside the conference:
Platinum – Oberthur Fiduciaire
Gold – CBPM-KEXIN,Gemalto, Hueck Folien, KBA-NotaSys, Komori Corporation, OVD Kinegram, PNO Global, SICPA
Silver – Gietz, Goznak, Polish Security Printing Works (PWPW), Sino MV
Exhibitors – ACTILOR, AGFA Graphics, Atlantic Zeiser, Beijing Kesiyuan Technology, das-Nano, Evolis, Heinz Ziegenbein, Imprimerie Nationale / SPS, In-Core Systèmes, International Tax Stamp Association, IQ Structures, Jura JSP, KEIT, Landqart, Leibinger, Luminescence International, Melzer, PARVIS, PCH – Seiler Systems Engineering, Petrel, Security Papers Europe, SURYS, TROY Group