Our seminars enable you to gain an in-depth understanding of a topical issue.
Run by leaders in their field, these seminars provide best practice advice and case study examples to enhance your professional knowledge.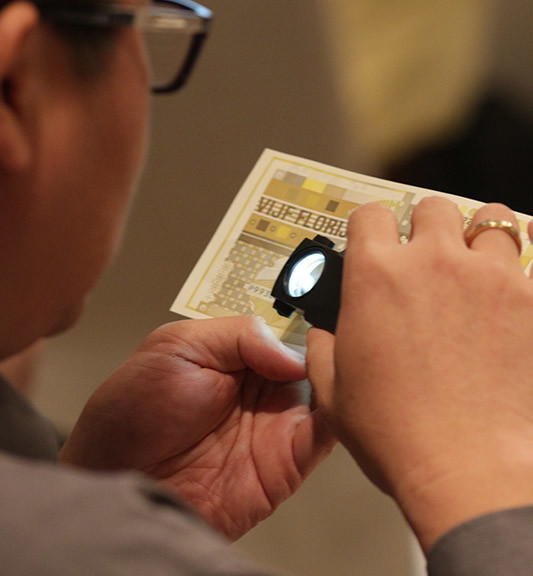 Currency: Made in Australia - Next Generation Banknotes from Concept to Circulation
Monday 4 December | 09.00
Developing a new series of banknotes today involves more stakeholders, more choice, more processes, more challenges and risks and consequently more complexity than ever before. Besides the central bank, the printer and technology suppliers the creation of the new notes involves a number of key users of banknotes including banknote processing equipment manufacturers, retail organisations, financial institutions and the vision-impaired community. Considerable work is also undertaken in the area of development of banknote design and production trials of new security features with particular importance placed on their durability and effective incorporation into the overall design of the notes.
This workshop will be presented as a series of presentations and interactive sessions giving participants a practical overview of the various issues involved in development, production and launch of the new banknote series. It will bring together a number of experts in the field providing a rare opportunity to discuss in detail some of the key topics from a number of different perspectives.
To give it 'a local flavour' the workshop will focus on Australia's Next Generation Banknote (NGB) project established in 2007 and culminating so far in the launch of the new $5 and $10 banknotes with the remaining denominations in the series to be introduced in coming years.
ID: Combating Document Fraud and Counterfeiting – A Practitioner's Perspective
Monday 4 December | 09.00
Using real-life cases, this workshop will offer a practical overview of the various methods used for altering, tampering with and counterfeiting of passports and ID documents. It will look at commercially available products that can be used in counterfeits, and how these products can deceive both professional and layman into believing the item is genuine. The discussion will also encompass the examination, comparing and contrasting of genuine security documents and commercial products as well as high-end examples of simulated features in paper, print, plastic and OVDs, and how people respond to such examinations.
The workshop will be presented by one of the leading Document Fraud Examination Centres in the world and will give participants an opportunity to discuss in detail the latest techniques used by document examiners to deter altered and counterfeit travel and identity documents.
Currency: Level 2 Features – See Your Banknotes Like a Machine
Monday 4 December | 11.00
When designing anything to be "Fit for Purpose", it is important to know how it will be used.  Banknotes have the unique challenge of meeting the requirements from the person on the street to unattended payment systems to central bank and forensic examination. Public features can be guided by studies and forensic features by scientists and law enforcement. This workshop will show how payment systems see features and their simulations, and will include roundtable discussions where delegates will be able to share their personal experiences, exchange information and learn from each other. Bring your banknotes and test samples to see how machines see them.
Robert Morrow, Crane Payment Innovations (USA)
ID: Everything You Always Wanted to Know About the Chip in ePassports but Were Afraid to Ask
Monday 4 December | 14.00
The biometric passport, commonly referred to as the ePassport, is believed to offer a multitude of benefits for facilitating the passage of travellers and securing both the document and the data contained in it. With the chip typically integrating the same biographical and biometric information that is printed on the datapage, ePassports are considered to be a major advance in travel and identity documents in the last two decades. But the correct use of the chip in these documents and the inspection process is the difference between good security and little security. It is usually assumed that border officials, for example, know what they are looking for when they are handed an ePassport. This, however, isn't always the case.
The seminar will explore in detail the use of the chip in ePassports covering the following topics:
·        Different kinds of RFID chips
·        Chip reading protocols (ICAO and EU regulations)
·        Separating facts from fiction from stories by hackers
·        Setting up a sound Inspection System.
It will offer participants a practical overview of the issued involved from first-hand experience and provide a unique insight into the topic. The seminar will be presented by Hans de Moel, a forensic document examiner with the Royal Netherlands Marechaussee of the Dutch Ministry of Defence. Amongst his many activities, Hans has been involved in designing, testing and implementing the Self-Service Passport Control at Amsterdam Schiphol Airport.
Hans de Moel, Royal Netherlands Marechaussee, Ministry of Defence
Central Bank Seminar
Monday 4 December | 14.00
Pre-Conference Seminar Fees
| | Pre-Conference Seminars (Government) | Pre-Conference Seminars |
| --- | --- | --- |
| One Seminar | $0 (free to attend) | $490 |
| Two Seminars | $0 (free to attend) | $720 |
NB. Government delegates can attend these seminars for free.  The government rate applies to issuing authorities only, ie.  government departments responsible for the issue of banknotes (central banks), or passports, ID cards and documents, revenue stamps, health cards, vehicle registration documents etc only, as well as customs, immigration and law enforcement agencies.
---
Register Now
Book your pre-conference seminar