296 delegates from 120 organisations and 35 countries attended the 2016 conference.
The event also featured 40 expert presenters and a record number of 42 sponsors and exhibitors.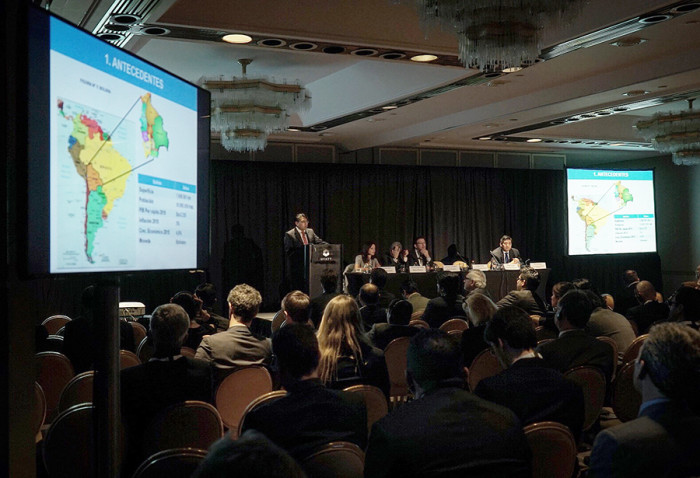 Downloads
Attendees can access selected presentations and audio recordings
Download presentations
You will need the username and password provided at the event
Daily News
Delegates at the 2016 event received a daily newsletter each morning, providing a roundup of news and comments.
Relive some of the atmosphere of the event by reading copies of these news updates.
Attendees
The organisations that joined us in Mexico
Advanced Track and Trace (France)
Agfa Graphics (Belgium)
AllSpark Solutions (USA)
American Banknote Corporation (USA)
Andrews & Wykeham (UK)
Appvion (USA)
Arjo Systems (France)
Arjowiggins Security (France)
AtelierGM Design (France)
Atlantic Zeiser (Germany)
Authentix (USA)
Banco de la Nación Argentina
Bangko Sentral ng Pilipinas (Philippines)
Bank of Guatemala
Bank of Mexico
Brazilian Society of Forensic Sciences
Cadena (Colombia)
Canadian Bank Note Company
Casa da Moeda do Brasil
Casa de Moneda de Chile
Central Bank of Bolivia
Central Bank of Brazil
Central Bank of Chile
Central Bank of Colombia
Central Bank of Costa Rica
Central Bank of Honduras
Central Bank of Iraq
Central Bank of Nicaragua
Copamex (Mexico)
Corit International (Austria)
Crane Currency (USA)
Cruz Diaz E Hijos (Colombia)
CUSBOR (Spain)
CV Crytovision (Mexico)
das-Nano (Spain)
De La Rue (UK)
Duarte Vivas & Asociados (Venezuala)
Enigma (Brazil)
Fedrigoni Brasil Papéis (Brazil)
Figurazione (Colombia)
FNMT (Spain)
Formas Inteligentes (Mexico)
Foster + Freeman (UK)
Gemalto do Brasil (Brazil)
GET Group (UK)
Giesecke & Devrient (Germany)
Gleitsmann Security Inks (Germany)
GOZNAK (Russia)
Griaule (Brazil)
Groupe Imprimerie Nationale (France)
Grupo Calidata Thomas Greg (Mexico)
Huizhou Foryou Optical Technology (FYOTEC) (China)
IECISA México (Mexico)
Imaprok (Colombia)
Impresora Silvaform (Mexico)
Infineon Technologies (Switzerland)
Innovia Security (Australia)
Intace (France)
IQ Structures (Czech Republic)
J. Vilaseca (Spain)
Joh. Enschedé Security Print (Netherlands)
Jura JSP (Austria)
KBA-NotaSys (Switzerland)
Keesing Technologies (Netherlands)
Komori Currency Technology (Japan)
Kugler-Womako (Germany)
Landqart (Switzerland)
Leonhard Kurz (Germany)
Luminescence International (UK)
Luminochem (Hungary)
MAF Security Consulting (Dominican Republic)
MaskTech (Germany)
Mint of Finland (Suomen Rahapja Oy)
Monea (UK)
Monnaie de Paris (France)
Mova Printing Solutions (Mexico)
Mühlbauer (Germany)
Nanotech Security Corp (Switzerland)
National Department of Immigration (Argentina)
NBS Technologies (India)
NXP Semiconductors (Netherlands)
Oberthur Cash Protection (France)
Oberthur Fiduciaire (France)
Optaglio (Czech Republic)
Orell Füssli Security Printing (Switzerland)
Otto Kunnecke (Germany)
OVD Kinegram (Switzerland)
Papeteries De Vizille (France)
Papierfabrik Louisenthal (Germany)
PARVIS (Italy)
Paul Leibinger (Germany)
Permaquim (Argentina)
PNO Global Banknote & Security Solutions (Netherlands)
Policia Nacional Del Peru
Polish Security Printing Works (PWPW)
Regula Baltija (Latvia)
Representaciones Filmer & Co (Venezuela)
Rolland Enterprises (Canada)
Safran Identity & Security (France)
Santander (UK)
Schmid Rhyner (Switzerland)
Secure Identity Alliance
Servitex Villena (Bolivia)
SEWO MEXICO (Mexico)
Shanghai Kesi Security Paper Technology (China)
SICPA (Switzerland)
SICPA Brasil Industria de Tintas e Sistemas (Brazil)
SICPA Mexicana (Mexico)
Smart Packaging Solutions (France)
SPG Prints (Netherlands)
SPM – Security Paper Mill (Czech Republic)
SURYS (France)
Teslin Substrate from PPG Industries (USA)
Thomas Greg & Sons de Colombia
Thomas Greg & Sons de Peru
Transelan (Canada)
TROY Group (USA)
US Department of State
US Immigration & Customs Enforcement – Virginia
Vacuumatic (UK)
Water Treatment (Austria)
Witte Holding (Germany)
X InfoTech (Latvia)
Zhongchao Special Security Technology (China)
Images
The 2016 Programme
Monday 20 June
Pre-Conference SeminarsID Document Protection
Michael van Gestel, Keesing Technologies

Eye 4 ID
Pre-Conference SeminarsBanknotes, ID & Secure Documents
Dr David Tidmarsh, Reconnaissance International

Latest Trends in Optically Variable Technologies
Tuesday 21 June
Session OneRegional Developments in Secure Documents
Alejandro Alegre Rabiela, Bank of Mexico

Future Plans for Mexico Currency Issuance, New Series of Coins and Banknotes and a 2nd Printing Works

Dr Ernesto Gonzalez Candela, Bank of Mexico (Mexico)

'GOGOL' – the Development of a Security Element for Electronic Devices

Sergio Cerezo, Central Bank of Bolivia (Bolivia)

New Family of Banknotes of Bolivia

Walter Groppi & Superintendent Boris Potozen, Migraciones with Imprimerie Nationale (Peru)

The New Peruvian E-Passport
Session Two: CurrencyNew Programmes and Projects
João Sidney de Figueiredo Filho, Central Bank of Brazil (Brazil)

Currency Supply and Banknote Security Feature Information for Citizens and Foreigners

Monika Kłysińska, PWPW (Poland)

Commemorative Banknotes as an Experimental Field for Introduction of Innovative Solutions

Oknan Bello Dinartes, Central Bank of Nicaragua (Nicaragua)

Design Process for Nicaragua's new banknotes issued in 2015
Session Two: IdentityPassport and ID Programmes
Francis Goossens, Thomas Greg (Colombia)

Colombia's New Passport

Georges Poulet, Gemalto (Brazil)

The Success Story of the new Uruguay eID Card Platform

Paloma Varela, Fabrica Nacional de Moneda y Timbre (Spain)

FNMT's New Developments for a National ID Card and Passport
Session Three: CurrencySubstrate Developments
Antonio Olmos, Fabrica Nacional de Moneda y Timbre (Spain)

Nanotechnology in Security Paper

Florence Debray, Intace (France)

New Treatment for Banknotes to Prevent Disease and Increase Durability

Sonja van der Poel, Royal Joh Enschedé (Netherlands)

'Expect the Unexpected' - New Developments in the Security and Durability of Banknotes

Baoli Zhang, China Banknote Printing & Minting (China)

New Progress of Integrated Colour Shift Features
Session Three: IdentityTravel and ID Documents
Narumi Pereira, Brazilian Society of Forensic Sciences (Brazil)

Civil Identification in Brazil: Characteristics, Problems and Propositions

Jorge Ojeda, ABNote (USA)

'Think as a Counterfeiter'

Monica Peralta, University of Criminology (Argentina)

What Do We Know About Our Passports?

Thomas Wendling, Secure Identity Alliance

What is Required to Build a 'Security Chain' in an eDocument Issuance Program?
Wednesday 22 June
Session Four: CurrencySecurity Features
Ian Smith, Kurz (Germany)

Foil Features: Banknote Security from Every Angle

Evgeny Veselov, Goznak (Russia)

Recent Trends in Optically Variable Features for Banknotes

Gustavo Ascenzo, Innovia Security (Australia)

Guardian with ClarityC and Verus – a New Paradigm in Banknote Security

Karl Heinz Strasser, Giesecke & Devrient (Germany)

Security Features - Integration of Machine Readable Concepts
Session Four: IdentitySecurity Feature Innovation
Edouard Masurel, SICPA (Switzerland)

User-Focused Designs: The Case of an Innovative Printed Optical Feature

Jean Christophe Lambert, ArjoSystems (France)

Finally - A True 1st Level Feature for E-ID Documents!

Robert Dvorak, IQ Structures (Czech Republic)

A Modern Approach to Combining Overt and Covert Protection of Polycarbonate ID Cards and MRTDs

Carla Guardia Malaga, X Infotech (Germany)

Integrated Turnkey Solutions for Electronic ID Documents
Session Five: CurrencyProduction and Circulation
Nicolas Mivielle, KBA-NotaSys (Switzerland)

Efficient Security: New Ways of Making Money

Tom Buitelaar, PNO Global (Netherlands)

Snowfish – the New Tool to Optimize the Used Note Sorting Process

Patrice Rullier & Carlos Gabriel Porter Sala, Oberthur Cash Protection & Santander (France)

Protecting Mexican and Chilean ATMs from Crime: the Efficiency of Ink Staining for Commercial Banks

Richard Boden, Komori (Japan)

New Developments in Printing Machinery Platforms – For Today and the Future
Session Five: IdentitySecure Documents
Carlos Robles, Rolland (Canada)

Step-by-Step Guide to Selecting the Right Security Paper for your Document

Ike Vander Horst, Grupo Calidata Thomas Greg (Mexico)

Security Integral Solutions – Are We Ready?

Stefan Barbu, NXP (USA)

E-Paper Solutions - Bring Smartcard Technology into Paper for Stronger Breeder Documents

Juan Carlos Yañez Arenas, International Tax Stamp Association

New Solutions for Tax Stamps – Security and Traceability
Session SixTechnologies for Next Generation Security
Serge Wsevolojskoy, SURYS (France)

Holograms – When Design Meets Security

Sergio Dawidowicz, OVD Kinegram (Switzerland)

Integrating the Physical Security of ID Government Documents into Smartphones

Eduardo Azanza, das-Nano (Spain)

Cutting Edge Technologies for an Everlasting Industry

Barna Barabas, Jura (Hungary)

Mobile Readable Covert Security Features for Document Protection

Uwe Zimmerman, Infineon Technologies (Germany)

Travel Documentation Technologies and Features
Thank you to our sponsors and exhibitors
Gold
Canadian Bank Note Company
FNMT
Grupo Calidata Thomas Greg
Innovia Security
INTACE
KBA-NotaSys
Komori Corporation
Louisenthal
Rolland Enterprises Inc.
SICPA
Silver
China Banknote Printing and Minting Corporation (CBPM)
Goznak
Jura JSP
PARVIS
Polish Security Printing Works (PWPW)
Exhibitors
Advanced Track & Trace
Agfa Graphics
American Banknote Corporation
Atlantic Zeiser
Beijing Kesiyuan Technology
CUSBOR
Das Nano
Foster + Freeman
GET Group
IQ Structures
International Tax Stamp Association
Kugler-Womako
Landqart
Leibinger
Luminescence International
NBS Technologies
Otto Künnecke
OVD Kinegram
PNO Global
PPG Industries
Regula
Security Paper Mill
Imprimerie Nationale / SPS
SURYS
Troy
X INFOTECH
Awards