View all articles
With four months to go until the next Tax Stamp Forum, let's take a look at how the programme is shaping up so far.
This 2017 edition takes us to the European Union (Berlin, to be exact) where a lot has been happening on the regulatory front as far as tobacco products are concerned.
The development of technical standards for the track and trace and security feature provisions of the EU Tobacco Products Directive (TPD) is currently in progress, with an adoption date set for Q4 2017. These standards – together with the WHO FCTC Protocol to Eliminate Illicit Trade in Tobacco Products (which is a global tobacco treaty) could have a profound impact on the nature of tobacco tax stamps to come, potentially cementing their role as instruments for product authentication and supply chain control.
The TPD technical standards will be covered at length during the Forum, by experts including Luk Joossens of the Association of European Cancer Leagues, Belgium. And in keeping with the 'EU' theme of the Forum, two policy experts from the EC Directorate-General Taxation and Customs Union (DG TAXUD) will present a paper on alcohol and tobacco excise policy in the EU.
We will also hear from Michael Eads and Telita Snyckers of Sovereign Border Solutions (the company which co-wrote the 2015 EC feasibility study to identify traceability and security feature options under the TPD). They will talk about the challenges, policy considerations, and technical aspects of developing a legal framework to underpin a fiscal marking/traceability regime. According to Michael Eads, most administrations and their legal departments have relatively little specialisation in (or focus on) developing strong legal foundations when establishing such regimes.
The challenge further increases when one moves from a traditional tax stamp programme to securing full FCTC (and/or TPD) compliance. The FCTC Secretariat has not provided clear guidance as of yet, and the treaty has also not entered into force.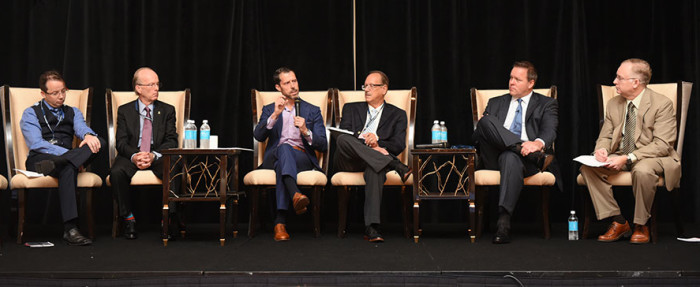 Nevertheless several countries are forging ahead, said Mr Eads, who will discuss the work he is undertaking with several countries to identify a range of inter-related issues against which to assess and build a legal framework for secure fiscal marking coupled with traceability.
Moving to another tobacco regulation – that of the plain packaging of cigarettes – which is currently being considered or advancing in several countries, Sven Bergmann of Venture Global Consulting will talk about how plain packaging may impact the illicit trade landscape. He will also examine the role tax stamps and related services can play in the overall revenue protection systems of government agencies in a plain packaging world, and how tax stamps might have to change to adapt to this changing landscape.
Tax stamps as part of a system
The increasing use of some tax stamp programmes as core components of multi-product, multi-process platforms for production monitoring and excise recovery will be the subject of a panel discussion during the Forum. The panel – entitled From the Beginning to the End: Tax Stamps as Part of a System Rather Than Just a Product – will comprise representatives from excise and law enforcement, as well as a supplier of track and trace solutions.
The panel will discuss all aspects of a modern excise control and collection system, including the features on the tax stamps and their function, the information programmes behind the stamps, how all this relates to enforcement measures, and who is responsible for what in terms of governments and suppliers. The discussion will also cover what is required for a tax stamp programme to extend into a comprehensive track and trace system.
Technologies in use worldwide
We will then hear from a number of solution providers and revenue authorities on the technologies and systems that are currently being used – or that could potentially be used – for tax stamp programmes worldwide.
These include papers from: KBA-NotaSys, the Slovakian Mint and Allexis, on the new stamp programme in the Slovak Republic; Agfa Graphics and Fedopress, Belgium, on the new all-digital tax stamp for Belgium and Luxembourg, and how it has been designed with global and regional tobacco traceability regulations in mind; APO Production Unit, Philippines, with an update on their award-winning cigarette stamp programme and their new alcohol stamps; and the Authentication Solution Providers Association of India, on how India's liquor stamps are coming of age in their adoption of the latest security features and unique identifiers.
How it's done on other products
But excise recovery and track and trace programmes are not just about tobacco – and nor are they even just about alcohol and tobacco. Some nations, such as Belarus, use tax stamps and control marks on a wide variety of other products; and some US states are introducing similar controls for the regulation of legalised marijuana. What's more, there are key learnings to be made from the pharmaceutical industry with regard to track and trace.
Given these extensive activities in other fields, the Tax Stamp Forum will dedicate one of its sessions to 'how it's done on other products'.
Merging physical with digital
A pre-Forum workshop will also be taking place, on the subject of Merging Physical With Digital – New Technologies that Can be Applied to Tax Stamps. It will consist of short presentations by selected suppliers, accompanied by tabletop demonstrations and samples.
The suppliers will illustrate the latest technologies for combining material and digital security features for authentication and track and trace, and how these technologies can be used on tax stamps. The workshop will also look at some of the latest smartphone apps and devices for verifying these combined features.
The Tax Stamp Forum remains the only event where government revenue and health authorities, manufacturers, NGOs and suppliers gather to shape the future of the tax stamp industry. We expect to be receiving 250 delegates at the 2017 Forum in Berlin – which will also comprise an extensive supplier exhibition – to find out more about how you can be there, visit the Tax Stamp Forum website.