View all articles
Can holography be part of the arsenal used in the fight against climate change in a world where being environmentally friendly is increasingly important to both businesses and individuals?
IHT (Terrasun Holographic Institute) believes it can.
Although the photovoltaic effect was originally discovered in 1839 by Alexandre Becquerel, it was not until 1954 that Bell Laboratories demonstrated the first practical solar cell with an efficiency of around 6%. Since then, the development in solar cells has continued with a focus on increasing the efficiency of the conversion of solar-to-electrical energy.
Nowadays, almost every commercial solar cell on the market uses p-n semiconductor junctions based on silicon wafers. These have a maximum theoretical efficiency of 29%, based on the Shockley-Queisser Limit (calculated in 1961), though in practice most mono-crystalline solar cells only produce about 24% conversion efficiency.
With numerous solar plants operating worldwide and the expansion of solar power into cities along with off-grid deployment; versatility, cost reduction and material development have become main research targets in solar power technology.
This is where IHT comes in. Founded in 2007, the company originally was dedicated to researching holographic applications for energy, mainly employed in photovoltaic plants. In 2013 IHT developed the SoHo3X concept, where holography is used as an inexpensive optical device that redirects sunlight towards the surface of the cell in a highly efficient way. Using this technique, the achievable annual energy yield is considerably increased with the same sunlight level while using 70% less cell area.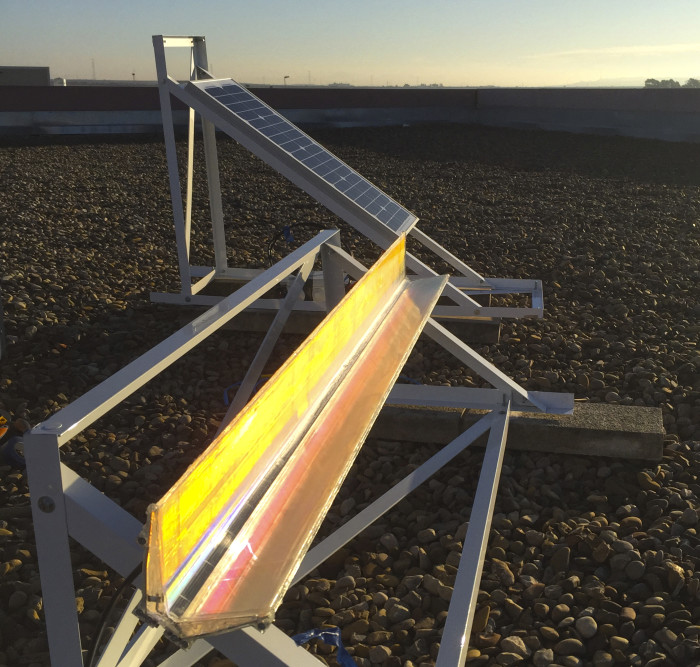 The technology combines three optical effects: diffraction by means of the hologram, total internal reflection (TIR) guided by the "pseudo-V-shaped" transparent material covering the holographic optical element (see picture) and specular reflection through a mirror at the back of the hologram.  These three effects contribute to guide the maximum solar radiation towards the photovoltaic cell.
Moreover, the hologram is designed and produced in order to maximize the angle and wavelength ranges where the cell operates. This is vital for their application, as in standard solar energy applications a very specific band of photons (those with wavelengths within approx. 400-1100nm) are employed to overcome the band gap of the silicon p-n junction and create an electron-hole pair, generating current. Beside the obvious energy conversion efficiency, these wide angular and spectral ranges allow static operation and negates the necessity for active mechanical sun tracking, normally compulsory in any photovoltaic cell application.
IHT owns a proprietary process to manufacture high-quality volume holograms, in a roll-to-roll format together with a chemical process responsible for the angular and spectral bandwidth changes which are key to efficiency gains. By using holograms to increase cell efficiency, IHT are hoping to bring an established technology to the forefront of innovation in an emerging one.
Want to hear more about this?
Dr. Ayalid Villamarín Villegas, Research & Development Manager of IHT, will give a talk where the new hologram applications for the development of efficient and low-cost solar photovoltaic modules will be explained. We have just covered the outline of the benefits afforded by this new application for holography. To hear more, make sure to register for The Holography Conference, held in Warsaw, Poland from 29-30 November 2016.