View all articles
This year marks 70 years since Dennis Gabor developed holography whilst he was working to improve the resolution of electron microscopes. According to Gabor he first thought of holography on Easter Day in 1947 and his early experiments culminated in him making a small hologram in 1948.
Since then his invention, combined with the development of the laser in 1960's, has led to an industry that today encompasses authentication, packaging, display, medical applications, head up displays and even branches into more niche areas such as solar panel efficiency. The applications of holography keep on growing.
It is unlikely that Dennis Gabor could have imagined at the time of his discovery that the global holography market would become so broad or so successful. The holographic display industry alone is expected to be worth $3.57 billion by 2020, according to a recent report.
The continuing development of holographic technology by companies worldwide will be celebrated at The Holography Conference®, which this year takes place in Barcelona, Spain from 16-17 November 2017. For the past 26 years this conference has been a hub for hologram users, producers and suppliers to come together and reveal the latest developments in applications and technologies.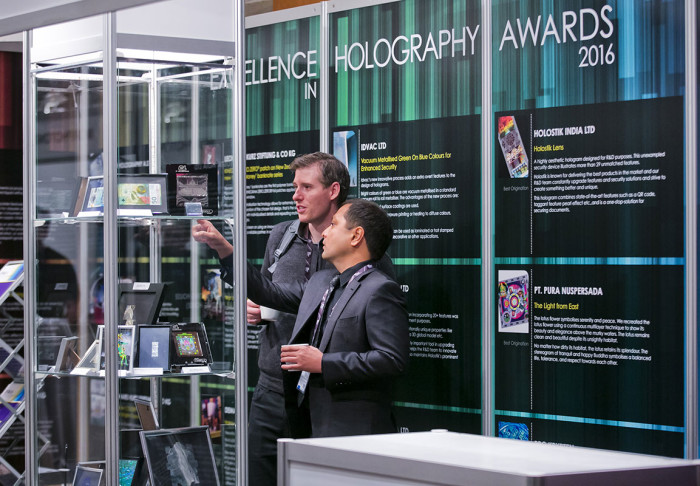 The programme for the event is now available online. The conference features a broad programme of expert presenters with extensive experience in the field of holography, ensuring that you are kept up-to-date with the latest developments.
Thursday 16 November is the first of two days of general sessions with a range of presentations from various international presenters. Topics covered will include Materials & Production Developments, Innovations in Origination, 70 Years of Holography: Past, Present & Future, Securing Documents and Brand and Applications of Surface Reliefs Structures and Holography.
Some of the highlight papers include a case study from Sectago who will be discussing 'A Novel OVD Security Feature for Document Protection'. Another exciting presentation to look out is from Canadian company Nanotech who will be showcasing 'E-beam Lithography Originations of Large Format Holographic Movies for Security Optical Variable Devices.'
One of the main benefits of this event are that it attracts an international audience of hologram users, producers and suppliers. Governments, private companies and academic institutions are also in attendance providing the perfect occasion for networking opportunities.
The conference also features a gala dinner, during which the presentation of the International Hologram Manufacturers Association (IHMA) Excellence in Holography Awards will take place. The awards are presented across five categories, and celebrate the most outstanding achievements in the field of holography over the past year.
Whether you are an end user, manufacturer, supplier or originator of holograms, The Holography Conference is sure to have something to offer for you. There is a 10% saving on delegate and exhibitor rates available until 22 September 2017, and full details on pricing can be found on the conference website.