View all articles
The Bank of England has begun issuing the first UK banknote on polymer, following 30 countries worldwide who already use polymer notes.
Introduced by the Bank of England as 'Cleaner, Safer, Stronger', the new £5 note aims to decrease counterfeiting while offering the additional benefits of increased durability and eco-friendliness for the UK's lowest denomination note. Discussions about a potential move from paper to polymer in the UK started as early as 2010, with a detailed study commissioned by the Bank in 2013 to evaluate the paper vs polymer question.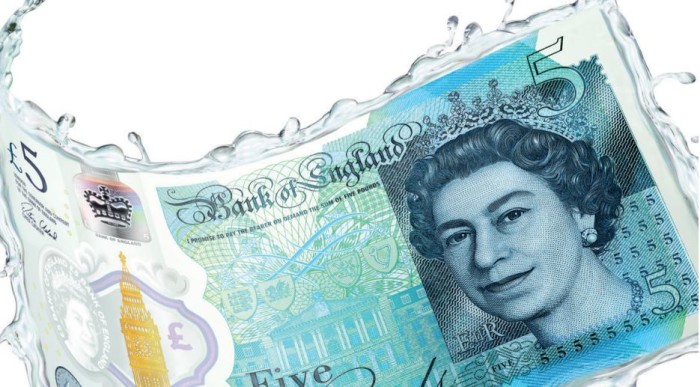 Public feedback has been overwhelmingly positive. In consultations, 87% of 13,000 people interviewed backed the introduction of the new notes. Since then, there has been a new design (with Winston Churchill on the £5 note, and Jane Austen to feature on the £10 note released next year), and new security technologies added.
The new £5 note has been introduced with its own website, www.thenewfiver.co.uk, social media tag (#thenewfiver) and a public engagement campaign featuring roadshows around the UK. The website, video and documents produced by the Bank of England all aim to ease the transition to polymer for both the public and users of cash equipment (banks, retailers, vending and ticket machine operators), who have had to upgrade this equipment to cope with the new, smoother notes.
The £5 is the first note to incorporate Kurz's Kinegram Colors®, used to depict the Elizabeth Tower (known by most as Big Ben) in gold on the front of the note and silver on the reverse. The note also features a green circular foil block on the back of the note that appears in the shape of the maze at Blenheim Palace. Other features include intaglio and UV inks, as well as a key feature of polymer, the security window.
While polymer has been in circulation since the early 1990s in Australia, development of the substrate and the features which can be incorporated has not stood still, with new advances being introduced regularly around the world. Applying OVDs to polymer rather than paper brings with it its own unique challenges, but also opportunities in terms of design and security.
OVD foils for polymer forms the focus for a panel session bringing together key stakeholders at The Holography Conference in Warsaw, Poland this November. We will welcome the Bank of England to the panel, along with suppliers and integrators, to discuss how ground-breaking holographic effects can be produced in polymer.
Find out more about this renaissance in holography for currency, and also the developments taking place in holograms for ID and other secure documents, at The Holography Conference 2016 from 29-30 November in Warsaw.