View all articles
With just a few weeks to go until nominations close for the Excellence in Holography Awards 2016, find out how you can get involved (and see who won last year).
With 5 different categories, the awards recognise the most impressive holography projects worldwide, whether they are artistic, commercial or technological advances. The categories span a range of criteria ensuring recognition across a broad range of holographic innovation. You can see the award categories below:
Innovation in Holographic Technology
Best Origination
Best Display or Emerging Technology Application of Holography
Best Applied Security Product
Best Applied Decorative/Packaging Product
If you have a project you would like to nominate, we encourage you to do this via the IHMA before the deadline on 2 September 2016. The IHMA Board will then meet to decide the final winners before the awards are presented during the Gala Dinner at the Holography Conference in Warsaw, Poland in November.
You can find out more about the awards and nominate a project on the IHMA website.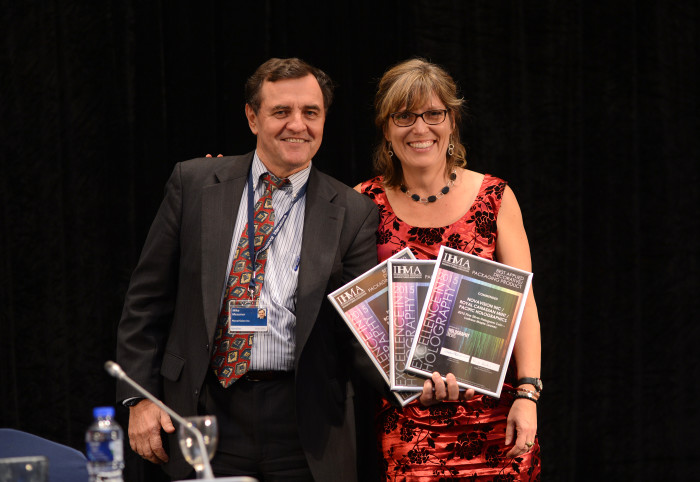 The 2015 awards were presented in Shanghai, China and the Board were delighted to have such a range of innovative projects to choose from. The awards ceremony concluded with an emotional presentation of the special 'Brian Monaghan Award for Business Innovation'. This award, presented typically only to those who have truly impacted the holographic community, was presented posthumously to Dr Wayne Tompkin. His knowledge, experience and technical expertise have influenced a generation of holographic development.
The 2015 Excellence in Holography Award Winners in full are below:
INNOVATION IN HOLOGRAPHIC TECHNOLOGY
Winner –  Zhongchao Special Security Technology Co for ColorDance
Commended – CSEM for Holograms & DOEs Structured in Hardened Steel
Commended – Morphotonix and Kyburz & Cie for Decoration and Security in One for Swiss Watch Dials
Commended –  Bowater Holographics for BowaterPolycopier
BEST ORIGINATION
Winner –  Combustion Ingenieros for Nobel Prize Tribute Gabriel Garcia Márquez
Commended –  Surys for The Sultanate of Oman – National Passport
Commended –  Combustion Ingenieros for Powerful Chinese Dragon 
Commended –  Bowater Holographics for BowaterHologram Kinetic – The Padlock
BEST APPLIED SECURITY PRODUCT
Winner –  Bank of Israel for Israel's New Banknote Series C
Commended – Holostik India for Afzal Inner
BEST APPLIED DECORATIVE/PACKAGING PRODUCT
Commended – NovaVision, Royal Canadian Mint and Pacific Holographics for 2015 Fine Silver Hologram Coin – Lustrous Maple Leaves
Commended – Optaglio for Fine Silver Coin – 25th Anniversary Canadian Space Agency
BEST OF YEAR
The Hellenic Institute of Holography for The Bowater Collection of Faberge OptoClones
THE BRIAN MONAGHAN AWARD FOR BUSINESS INNOVATION
Wayne Tompkin
For further information on all of the winners please visit the IHMA website.