The Optical Document Security Conference™ which took place in San Francisco at the end of January attracted attracted 250 delegates from 29 countries and 132 different organisations with 19 table-top displays in the exhibition, three more than any previous ODS conference - as it is now known.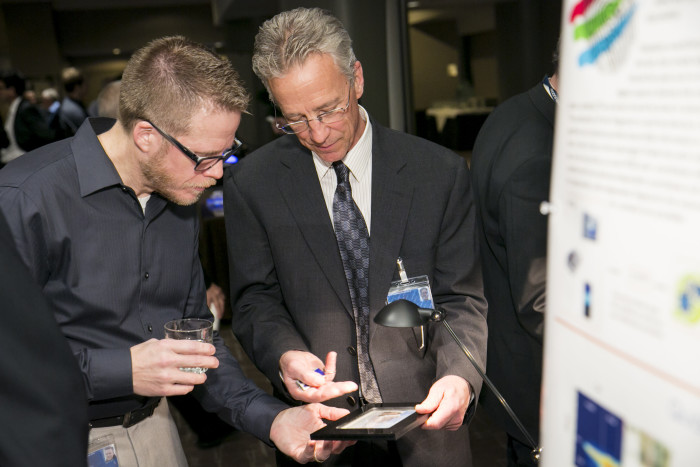 But the ODS conference is not about setting records – it is specifically about optical science related to the security of documents.
It is the forum where embryo technologies or technologies recently conceived or in their infancy are introduced, to be critically appraised by a technically focused audience from government bodies, institutions or commercial organisations involved in secure documents. The hope of the presenters and delegates alike is that 'next generation' security technologies will emerge from the conference.
One example is the micro-optic technology introduced by Nanoventions Inc. at this conference in 2002 and now, under the ownership of Crane & Co and with the trade name of Motion®, in use in many different banknotes around the world, as well as being used with a different optical configuration for product protection. Richard Steenblik and Mark Hart, the inventors from Nanoventions, attended this 2014 conference.
The conference also allows the industry to follow those technologies that develop past the concept stage though infancy to maturity, always focusing on the science behind the developments. Thus, some of the papers or exhibition displays feature technologies which were introduced at a previous conference – such updates can be as relevant and informative as new technologies. This year, for example, Clint Landrock of Nanotech Security gave his third ODS paper about nanohole technologies just as KolourOptik, the commercial version, has become available.
Euro Banknote Smartphone Authentication
What emerged from the conference is a recognition that viewing simplicity is a virtue in overt security features, even while the methods of achieving that simplicity become more sophisticated; while the advent of transparent windows in banknotes and the possibilities for windows in polycarbonate cards is prompting producers and researchers to find the best way to use those windows as visual authentication features.
A wide range of technologies conveniently grouped into sessions of similar topics were presented, and in a first, the conference entered the e-age with a session on smartphone authentication. As if by alchemy (or magic), Marcel van der Woulde of the Dutch National Bank demonstrated a fully working system that authenticated a €50 note with an iPhone. What was thought to be a future possibility turned out to be a reality that had only been perfected a week before the conference.
Unlike most smartphone apps reported in previous issues of Authentication News®, which work by capturing a specific code or other feature on a label or document and (mostly) connecting to a database to check this code, the DNB method is to analyse some small, specific regions of interest (ROIs) in the banknote design, storing that analysis in the app, and then imaging those parts of the banknote and comparing them to the stored information.
It would be interesting if this approach could be applied to other documents, but one factor that the DNB app works on is line or dot detection, because the fine printing on a banknote is applied via a plate so that what appears to the eye as lines are in fact continuous ink lines, whereas most counterfeits are printed using a dot system. So the particular method adopted by the DNB will only work on other non-dot-based printing methods.
SPR Projects Covered
Other themes that emerged through the conference were the continuing interest in the application of surface plasmon resonance (SPR) to optical security, while other papers demonstrated the resilience of traditional methods such as intaglio printing through constant innovation and development.
As mentioned above, Clint Landrock gave an update on the development of the nano-holes and SPR techniques that Nanotech is now close to commercialising, while his academic colleague Dr Bosena Kaminska looked further ahead, showing laboratory examples of the use of these techniques to produce full-colour photographic images.
At the risk of expanding on only a few of the many interesting papers, it is worth describing Kaminska's report of what she is calling nano-photofabric or nano-photopaper. This is made by creating an intensity control layer and a pixel layer by forming arrays of nanostructures in the substrate, which can be paper, plastic, metal or any other material which will allow the laser-etching of nano-holes. The process allows for the reproduction of a full-colour photo or other image, with covert images or information embedded.
This is still a research development at the Simon Fraser University, but Kaminska envisages that production would be straightforward using developments of embossing or casting processes as used to manufacture holograms.
SPR also featured in the paper from Hologram Industries, describing its Plasmogram® and introducing a new concept of the Metallic Glance, an image which is part of the structure of the transmission-viewed Plasmogram which is viewed in reflection light. The resulting visual effect is that the image is seen in pastel colours with a colour switch when it is rotated through 90°.
Toppan's paper was notable as the first public presentation that has explained in detail the method behind zero registration tolerance in demetallisation, in its case for what it is calling NanoEdge and NanoEdge Watermark holograms. These are demetallised holographic images where the demet is in perfect register to the optical image at a resolution of 12,700 dpi (cf the more typical 250 dpi demet methods).
Toppan's approach is to make very deep V-shaped grooves in the surface relief structure – what it calls the 'bump geometry' – thus creating areas that are not covered in the vacuum metallising process. It has demonstrated that this process allows for a much finer differentiation between metallised and non-metallised areas. Nano Edge Watermark is a covert image version, where the hidden image is revealed either by viewing in transmitted light or by tilting the hologram.
In the former version, the image can be totally different to that of the reflection-viewed hologram, while in the tilt version it gives a positive/negative effect, achieved by perfect alignment of the OVD image with the demetallised image. Toppan is also proposing use of its demetallised process for security overlays, because of the variety of new effects that can be offered on ID documents.
Examination & Detection
ODS has established a tradition of not only showcasing optical security technologies but also hearing from investigators and examiners as to the trends or developments in counterfeiting activity.
The final afternoon of the conference, titled Authentication & Examination included a paper from Robin Tran & Matthew Heyne of the US Immigration & Customs Enforcement Homeland Security Investigations Forensic Laboratory, showing some of the latest examples of detected fake optical devices on passports and ID cards.
They pointed out that they classify fakes into lower and higher quality simulations, where the first is detectable by eye, often because they don't contain any changes in appearance with changing viewing angles. Higher quality simulations are more complex, sometimes exhibit only small differences from the genuine item and may need a high-power microscope to detect these differences.
They showed numerous examples of simulated optically variable ink, holograms and Kinegrams. Keeping 'the best until last' – which, with the overall quality of the papers, succeeded in ensuring a good attendance right until the end of the formal programme – Kerre Corbin of the US Secret Service gave a presentation on the counterfeiting to date of the new US$100 bill which was issued in October 2013 with a Motion® stripe. She gave information on around 30 known counterfeits that have already appeared, including one found in February 2013 – 9 months before the bill was issued!
The proceedings of the conference are available on CD-ROM or for downloading at £395.
Many will be covered in further detail in subsequent issues of ID and Secure Document News, Authentication News and Currency News.
Attendees
3DTL (USA)
3M Company (USA)
Advanced Track & Trace (France)
AIT Austrian Institute of Technology GmbH (Austria)
Alise Devices S.L. (Spain)
Angstrom Technologies (USA)
API Foils Europe & Holographics (UK)
Ara Authentic GmbH
Arjowiggins Security SAS (France)
Australian Passport Office
Banco de Mexico
Bank of Canada (USA)
Bank of England (UK)
Bank of Thailand (Thailand)
Banque de France (France)
BASF SE (Germany)
Board of Governors, Federal Reserve System (USA)
Bowater Holographics
Brady Corporation (USA)
Bsecure Ltd (Israel)
Bundesdruckerei GmbH
Bureau of Engraving & Printing (USA)
Canadian Bank Note Company
CCL Label
Central Bank Counterfeit Deterrence Group (CBCDG) (Canada)
Central Bank of Chile
Central Bank of Nigeria
CMR Associates
Crane Currency (USA)
Crane Security Technologies
Crown Roll Leaf
CSEM SA Basel (Switzerland)
Cummins-Allison Corporation (USA)
Dai Nippon Printing (Japan)
Dai Nippon Printing (Netherlands)
Danmarks National Bank (Denmark)
De La Rue - Currency (UK)
De La Rue International (UK)
De Nederlandsche Bank (The Netherlands)
Digimarc Corp (USA)
DNP Corporation USA
European Central Bank (Germany)
Europol
Fabrica Nacional de Moneda y Timbre (Spain)
Federal Reserve Bank of Richmond (USA)
Federal Reserve Board (USA)
Fedrigoni S.P.A
FGUP "STC Atlas" (Russia)
Fortress Optical Features (Canada)
Foster & Freeman USA
Giesecke & Devrient (Germany)
Gleitsmann Security Inks GmbH (Germany)
Glory Ltd (Japan)
Goznak
Graphic Security Systems Corp (USA)
Gruppo Tanco
Holden Technical & Scientific Consultants LLC
Hologram Industries (France)
Hologram Industries (USA)
Hologram Industries (Poland)
Honeywell Specialty Chemicals Seelze GmbH (Germany)
Hueck Folien GmbH
IAI Industrial Systems
Infinite Graphics
inIT-Institute Industrial IT (Germany)
Innovia Films (Asia Pacific) Pty Ltd (Australia)
Innovia Films (UK)
Innovia Security (Australia)
Intac Private (Singapore)
IQ Structures
Japan-Bangladesh Security Printing & Papers (Bangladesh)
JDSU Authentication Solutions (USA)
Joh. Enschedé
Jura JSP GmbH (Austria)
KBA-NotaSys SA (Switzerland)
Kenya Bureau of Standards
Komori Currency Technology
Krypten Research & Production (Russia)
Kyodo Printing Co Ltd
Landqart AG (Switzerland)
Leif Yde Consulting (Denmark)
Lumenco LLC (USA)
Luminescence International (USA)
Luminit Security Microstructure Group (USA)
MEI Inc (USA)
Merck Chemicals Ltd (UK)
Micro Format Inc. - Security Phantom Technology (USA)
Morpho B.V. (The Netherlands)
Nanogate Industrial Solutions GmbH (Germany)
Nanotech Security Corp (Canada)
Nanoventions
National Bank of Belgium
National Printing Bureau (Japan)
NCR (Financial Solutions Group) (UK)
New Light Industries Ltd
Oberthur Fiduciaire (France)
Ocean Optics (USA)
Oesterreichische Banknoten und Sicherheitsdruck GmbH - (oebs) (Austria)
Opalux Incorporated (Canada)
OpSec Security Group (UK)
Opthentic Corp
Orell Füssli Security Printing Limited (Switzerland)
OVD Kinegram AG (Switzerland)
Pacific Holographics (USA)
Papierfabrik Louisenthal GMBH (Germany)
Perceptech (The Netherlands)
Philip Morris International
Polish Security Printing Works (PWPW)
Public Safety Canada (Canada)
Quality Engineering Associates Inc (USA)
Regula Forensics
Rolic Technologies Ltd (Switzerland)
Rolling Optics
Salmon Corp SAC (Peru)
Sectago GmbH
Security Holograms UK
Secura Monde International (UK)
Security Papers UK
SE Holography
SICPA Product Security
SICPA SA (Switzerland)
Simon Frazer University (Canada)
South Dakota School of Mines and Technology (USA)
STC Atlas
Tanzania Revenue Authority
tesa scribos GmbH (Germany)
Thai Pix LLC (Thailand)
Toppan Printing Co (Japan)
US Department of State
US Government
Vistec Electron Beam GmbH
Watermark
Wincor Nixdorf (Germany)
Image Gallery