The Optical Document Security (ODS) conference and table-top exhibition, which took place in San Francisco, from 10-12 February, attracted 240 delegates from 24 countries and 120 different organisations.
If you missed the conference, you can buy a copy of the ODS proceedings. This includes all of the papers presented at the event.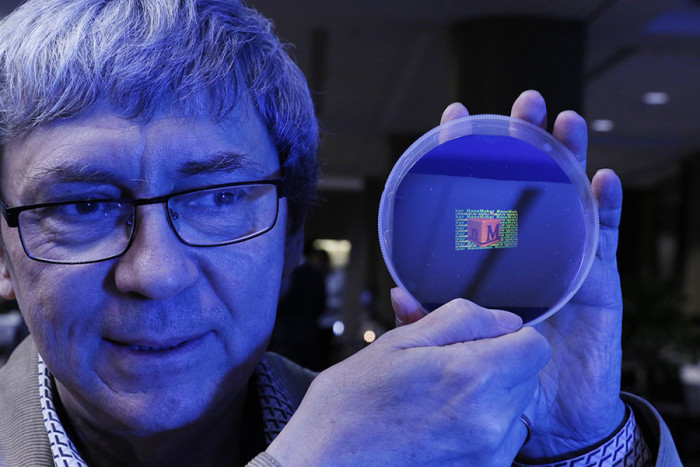 ODS is specifically about optical science related to the security of documents. It is the forum where embryo technologies, or technologies recently conceived or in their infancy, are introduced for critical appraisal by a technically focused audience from government bodies, institutions or commercial organisations involved in secure documents.
The hope of the presenters and delegates alike is that 'next generation' security technologies will emerge from the conference. One such example from this year's event was the 'Continuous Motion DOVID Security Features', introduced by Markus Koch and Frank Seils from Sectago. This is a Level 1 security feature that appears bright white upon illumination, revealing continuous motion – rather than discrete steps – to the authenticator.
The conference also allows the industry to keep track of technologies that develop past the concept stage through infancy to maturity, always focussing on the science behind the developments.
Thus, some of the papers and exhibition displays featured updates on technologies introduced at previous conferences – which can be as relevant and informative as new technologies.
One example of this was the use of plasmon technology presented by SURYS (formerly Hologram Industries). This was first introduced at ODS in 2012 (Extraordinary Transmission for an Effective See-through DOVID) and then at ODS 2014 (Plasmon Science for a Novel Metallic Glance with a Dramatic and Azimuthal Colour Shift). This time, Jean Sauvage-Vincent from SURYS combined transmission and reflection with the introduction of the Plasmogram™.
Further plasmon papers were also presented from Toppan Printing (on surface plasmon resonance combined with electron beam lithography), and from the Reserve Bank of Australia, School of Physics (on the plasmonic pixel).
One of the most interesting papers of the conference came from Kai Sun, of Zhongchao Special Security Tech Co, a subsidiary of China Banknote Printing and Minting Corporation. The paper was interesting, not only for its innovative technical developments based on combining interferential thin-film coatings and sub-micron gratings, but because China Banknote is now willing to provide these and other security features to bona fide organisations in the rest of the world.
The conference also addressed 'e-age' developments with an entire session devoted to smartphone authentication.
The session included an introduction by Alise Devices to its LILIAC® technology. This is a very thin flexible polymer film (10- 20μm), which is transparent in daylight, but when the feature is positioned in front of a screen or display emitting polarised light, latent images appear. The images on each side of the device are different and do not interfere with the authentication process, which is carried out by smartphone, tablet or laptop.
Download presentations
Attendees can access selected presentations and audio recordings
Download presentations
You will need the username and password provided at the event
Attendees
Organisations attending Optical Document Security in 2016 included:
3M Company (USA)
ABnote (USA)
AJW (USA)
Alise Devices (Spain)
Altria Client Services (USA)
American Banknote Corporation (USA)
Angstrom Technologies (USA)
API Holographics (UK)
Arca Technologies (Italy)
Arjowiggins Security (France)
ASE Optics (USA)
Ashton Potter Security Printers (USA)
Bank of Canada
Bank of England
Bank of France
Bank of Mexico
BASF (Germany)
Bowater Industries (UK)
Brady Corporation (USA)
Bundesdruckerei (Germany)
Canadian Banknote Company
Carestream Contract Manufacturing (USA)
China Banknote Printing and Minting Corporation
collIDe (USA)
Composecure (USA)
Covestro Deutschland (Germany)
Crane Currency (USA)
Crane Payment Innovations (USA)
Crown Roll Leaf (USA)
CSEM (Switzerland)
CTS Cashpro (Italy)
Cummins-Allison Corporation (USA)
Dai Nippon Printing (Netherlands)
De La Rue (UK)
De Nederlandsche Bank (Netherlands)
Defence Science & Technology Laboratory (DSTL) (UK)
Demax (Bulgaria)
Department of State (USA)
DNP Corporation (USA)
Entrust Datacard (USA)
European Central Bank (Germany)
Europol (Netherlands)
Federal Reserve Bank of Richmond (USA)
Federal Reserve Board (USA)
Federal State Unitary Enterprise "STC"Atlas" (Russia)
Foster and Freeman (USA)
Giesecke & Devrient (Germany)
Gleitsmann Security Inks (Germany)
Glory (Japan)
Goznak (Russia)
Graphic Security Systems Corp (USA)
Half Media Lab (Taiwan)
HID Global (USA)
Holograte JSC (Russia)
Holoptica (USA)
Honeywell International (USA)
Honeywell Speciality Chemicals (Germany)
Hong Kong Institution of Engineers (Hong Kong)
Hueck Folien (Austria)
inIT-Institute Industrial IT (Germany)
Innovia Films (UK)
Innovia Security (Australia)
IPTM RAS (Russia)
ITW Covid Security Group (USA)
Joh. Enschedé Security Print (Netherlands)
KBA-NotaSys (Switzerland)
Kievgolografia (Ukraine)
Krypten Research & Production (Russia)
Kyodo Printing (Japan)
Landqart (Switzerland)
Lawrence Livermore National Laboratory (USA)
Leonard Kurz Stiftung & Co (Germany)
Los Alamos National Laboratory (USA)
Lumenco (USA)
Luminescence International (UK)
Merck Chemicals (UK)
Moxtec (USA)
Nanotech Security Corp (Canada/Switzerland)
National Bank of Belgium
National Bank of Denmark
National Printing Bureau (Japan)
National Research Council (Canada)
NCR (UK)
New Dalton Group (USA)
New Light Industries (USA)
Oberthur Fiduciaire (France)
Oesterreichische Banknoten und Sicherheitsdruck GmbH (OEBS) (Austria)
Oesterreichische Nationalbank (Austria)
Opalux Incorporated (Canada)
OpSec Security Group (UK)
Optaglio (Czech Republic)
Opthentic Corp (USA)
Orell Füssli Security Printing (Switzerland)
OVD Kinegram (Switzerland)
Papi Security Printing Company (Nigeria)
Papierfabrik Louisenthal (Germany)
Polish Security Printing Works (PWPW)
Quality Engineering Associates Inc (USA)
Regula Baltija (Latvia)
Rolic Technologies (Switzerland)
Russian Academy of Science
Schmid Rhyner (Switzerland)
Sectago (Germany)
Secura Monde International (UK)
Security Papers (UK)
SICPA (Switzerland)
SICPA Securink (USA)
Simon Frazer University (USA)
South Dakota School of Mines and Technology (USA)
Stensborg (Denmark)
SURYS (France)
Tesa Scribos (Germany)
Toppan Printing Co (Japan)
Troy Group (USA)
University of Melbourne (Australia)
US Bureau of Engraving and Printing
US Department of State
US Government Publishing Office
Viavi Solutions (USA)
VLP Law Group (USA)
Watermark Publishing House (Russia)
Wavefront Technology (USA)
Wincor Nixdorf International (Germany)
Zhongchao Special Security Technology (China)
Image Gallery
The 2016 Programme
Session 1Banknotes
Hans de Heij, De Nederlandsche Bank NV. Amsterdam. (Netherlands)

User Experience and User Interface Functions of Optical Authenticity Features

Ernesto González Candela, Banco de México (Mexico)

GoGol: Development Of A Security Feature For Electronic Devices

Brian Holmes, De La Rue (UK)

Banknote Lenticular Security Device Providing Both Image Change and Colour Shift
Session 2Print & Printing
Thomas Türke, KBA-NotaSys (Switzerland)

Intaglio Quality Measurement

Christoph Mengel, Giesecke & Devrient (Germany)

Dynamical, Multicolored Optical Effects: Innovative, Printed Solutions For Intuitive Recognition Of Security Features

Manfred Heim, Louisenthal (Germany)

A Combination Of Optically Variable Structures And Coatings - Multiplying Security And Complexity

Stan May, University of South Dakota (US)

Complete Print-Read-Decode Prototype for RGB Upconverting Inks

Volker Lohweg, inIT – Institute Industrial IT (Germany)

Data Collection Unit – A Platform for Printing Process Authentication
Session 3New Approaches to OVDs (1)
Markus Koch, SECTAGO (Germany)

Continuous Motion DOVID Security Features

Soko Koda, Toppan Printing (Japan)

Transmissive Nano Pattern Images Using Surface Plasmon Resonance For DOVIDs

Guillaume Basset, CSEM (Switzerland)

Subwavelength Gratings For OVDs: From Local Interactions To Using Light Transport

Sergey Zaitsev, IMT RAS, Chernogolovka, Russia (Russia)

True Colour Rainbow Hologram, OVD, Micro-Nanooptics... By s/w "RainBow" Via High Throughput EBL, Dot-Matrix techniques and DLW.

Jean Sauvage-Vincent, Surys (France)

Dual Transmission And Reflection Mode: A New Plasmonic Effect For OVDs
Session 4New Approaches to OVDs (2)
André Arsenault, Opalux (Canada)

Transforming Tunable Optically Variable Materials into Active, Tunable Pigments

Timothy James, Reserve Bank of Australia, School of Physics (Australia)

The Plasmonic Pixel: Nanophotonic Structures For Security Feature Production With Large Surface Area and Wide Applicability

Clint Landrock, Nano Tech Security Corp (Canada)

Nano-Optic OVDs Production Performance in Security Document Substrates

Bozena Kaminska, Simon Frazer University (Canada)

Personalized Security Features Produced on Nano-Media
Friday 12 February
Session 5Combination Features/Diffractive OVDs
Harald Walter, OVD Kinegram (Switzerland)

Color Movement Effects Based on Zero-Order Diffractive Filter

Kai Sun, Zhongchao Special Security Tech Co., Ltd, A Subsidiary Of China Banknote Printing And Minting Corp (China)

Novel Security Features By Combining Interferential Thin-Film Coatings And Sub-Micro Gratings

Robert Renton, Opsec (UK)

Integration Of Customised Colour Shifting Security Features Into Complex OVD's, A New Way Of Protecting Goods And Documentation.

Edgar Müller, SICPA (Switzerland)

Advances in Optically Variable Magnetic Printing Technologies
Session 6Authentication and Examination
Raymond Wong, Hong Kong Polytechnic University (Hong Kong)

Virtual Identity Document—Sooner, Later Or Never

Carlos Carrasco, Alise Devices, S.L. (Spain)

LILIAC: Transmissive Security Feature And Its Integration Into Banknotes And Identity Documents

Georgy Kornilov, Goznak (Russian)

Analysis Of Traditional Printing Method Characteristics For Authentication Of Banknotes With Use Of Smart Phones

Sylvain Chosson, Orell Füssli Security Printing (Switzerland)

Blue Light Watermarking
Session 7Authentication & Examination
Rosalie Clemens, ASE Optics (US)

Plastic Optics for Authentication Tools

Raman Tsialiatnikau, Arif Mamedov, Regula (Latvia)

Examination And Authenticity Control Of Secure Holograms

Robert Stewart, Innovia Films (UK)

Development of Birefringence Measurement as Banknote Authentication Technology

Johannes Schaede, KBA-NotaSys (Switzerland)

Banknote Cash Challenges met by Advancing Low Cost Image Analysis Tools

David Kenny, European Central Bank (Germany)

The Screening Of Counterfeit Banknotes For Latent Fingermarks Using Black Powder
Our Table-Top Exhibitors
Thank you to our exhibitors for contributing to the table-top showcase
Table-Top Exhibitors
Angstrom
Foster + Freeman
Holograte
Holoptica
Luminescence International
Nanotech Security Corp
Opalux
Optaglio
Opthentic
Quality Engineering Associates
Sectago
TROY Group