The 2018 Short Course
Wednesday 24 January
Tradition is that the popular short course provides a comprehensive technical coverage of the features that qualify in providing optical security for documents.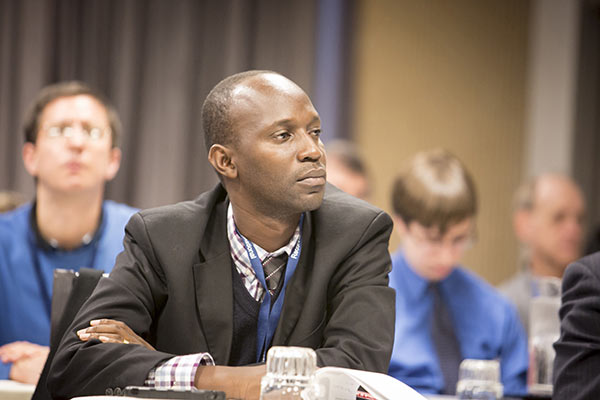 A Review of OVDs and their use with Digital Electronic Devices
The ODS Short Course is recognised as a valuable introduction for people new to the field, whether working as a specifier, designer, producer or examiner, as well as providing a useful up-dating survey for optical document security veterans. The 2018 Short Course maintains this function, but in recognition of developments in the field it is in two parts. Part one provides a technical overview of the features that qualify in providing optical security for documents and how they are used to authenticate genuine documents or reveal fraud. The course will show how optical and material science can be combined to create OVDs that are opaque, translucent or transparent, reflective or transmissive, to be used as patches, stripes, threads or overlays, and how the latest developments allows OVDs to be more integrated into the design of the document they are protecting.
The course will also cover the latest trends and innovations in optical technologies such as micro- and nano-technologies and the use of window features.
Part two gives an insight into the use of electronic vision systems, such as smartphones, as authentication solutions and examination tools. This new section summarises the underpinning technologies to identify the opportunities for authentication. Topics covered include: machine vision, image capture devices and systems, camera testing, smartphone developments plus the risks and benefits of a smartphone platform for feature authentication.
The course has three presenters who have experience of OVD's for banknotes, payment cards, tax stamps, brand, ID documents and digital authentication devices.
Dr Mark Deakes
Dr Mark Deakes, Director of Optical and Authentication Technologies for Reconnaissance International, is also the General Secretary of the International Hologram Manufacturers Association (IHMA) and the Editor of Holography News® and Authentication News®. Prior to joining Reconnaissance, he spent 15 years at De La Rue in various roles including Process and Technology Development Manager for Holographics and Technical Sales Manager for Solutions.
During his time at De La Rue, Mark was involved in the production and development of over 30 hologram products, and co-led the development of optically variable magnetic stripe. Mark also spent time in holographic production where he was heavily involved in improving aspects of the surface relief production processes. He has both a technical (BSC and PhD in Chemistry) and a business education (MBA).
Dr Alan Hodgson
Dr Alan Hodgson has a background in the optics of silver halide holography and optical data storage from over 20 years' in the photographic manufacturing industry. Spending seven years at 3M, specialising in print
solutions for high security documents such as passports and identity cards, Alan recently returned to his consultancy business, working on projects in security printing, optical sensors and wearable devices.
Alan has a BSc in colorant chemistry and a PhD in instrumentation, both from the Department of Chemistry at the University of Manchester. He is a past President of the Society for Imaging Science and Technology and a Fellow of The Royal Photographic Society. Alan is the author of the "Printing Beyond Colour" and "Wider Eye" series of articles in Authentication News. He is a Visiting Academic at the University of Manchester Centre for Digital Fabrication, investigating routes to bring optical technologies into secure documents.
Dr David Tidmarsh
Dr David Tidmarsh has over thirty years corporate and security experience. He joined the Crane group, initially with its subsidiary Technical Graphics Security Products (the manufacturers of security threads for the US and other currencies) as director with responsibility for its overseas activities, then became Marketing Director for Crane AB – the banknote printer and papermaker which Crane bought from the Swedish government.
He previously spent ten years as chief executive of Applied Optical Technologies plc, and before that was a board director of security printers Bemrose Corp PLC. Dr Tidmarsh was the first chairman of the International Hologram Manufacturers Association (IHMA) and holds a PHD in Chemistry, as well as a degree in Business Administration.