Some 250 delegates from more than 30 countries attended the Tax Stamp Forum which took place in Miami in November 2015.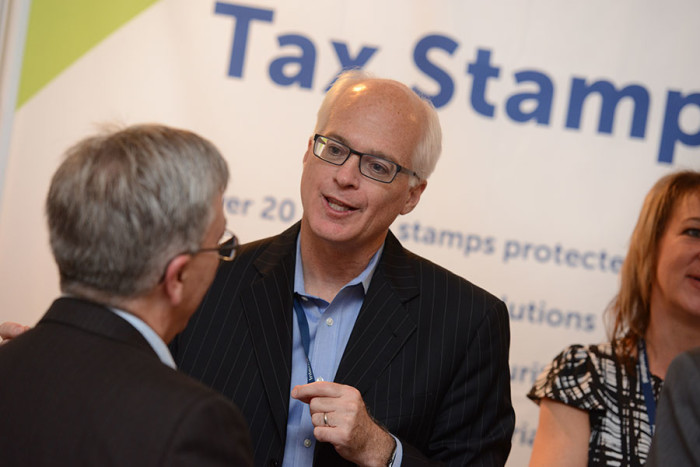 Downloads
Attendees can access selected presentations and audio recordings
Download presentations
You will need the username and password provided at the event. Contact us if you need help accessing the downloads site.
Attendees
Advanced Track and Trace (France)
Agfa Graphics (Belgium)
Alcohol and Tobacco Tax and Trade Bureau (TTB) (USA)
Allexis (Slovakia)
Alteram Solutions (South Africa)
Altria (USA)
AMPG Group (Armenia)
Angstrom Technologies (USA)
API Holographics (UK)
APO Production Unit (Philippines)
Arjowiggins Security (France)
Arkansas Tobacco Control Board (USA)
Art-Line Projekt (Germany)
Ashton Potter Security Printers (USA)
Association of European Cancer Leagues (Belgium)
ATT Trade Bureau Library (formerly: Alcohol Tobacco & Tax Trade Bureau) (USA)
Authentication Solutions Protection Association (ASPA) (India)
Avery Dennison (USA)
Blumer Maschinenbau (Switzerland)
Bowater Holographics (UK)
Bulgarian National Bank Printing Works (Bulgaria)
Bundesdruckerei (Germany)
California Distributors Association (USA)
California State Board of Equalization (USA)
Canada Revenue Agency (Canada)
Canadian Bank Note Company (Canada)
Cartor Security Printing (France)
Casa da Moeda do Brasil (Brazil)
Centro Grafico DG (Italy)
Chanwanich Security Printing Co (Thailand)
Complete Inspection Systems (USA)
Cook County Government/Dept of Revenue (USA)
Creed Engineers (India)
Customs & Excise Division (Antigua and Barbuda)
Customs Service (Papua New Guinea)
Customs, Illicit Trade and Anti-Money Laundering – Montana (USA)
DataDot Technology (USA)
De La Rue (UK)
DEMAX Holograms (Bulgaria)
DLR Security Concepts (Ireland)
Dominican Rum Producers Association (Dominican Republic)
Dynapresse Marketing (Indonesia)
Eastman Kodak Company (Switzerland)
Enigma (Brazil)
Excel Systems (Egypt)
Excise and GST/HST Rulings Directorate (Canada)
Federal Board of Revenue (Pakistan)
Federation of Tax Administrators (USA)
Fedrigoni Brasil Papéis (Brazil)
Former Director – State Taxation (Paraguay)
General Inland Revenue (Dominican Republic)
Georgia Revenue Service (Georgian Republic)
Goebel (Germany)
Government of India Customs House
Graphic Security Systems (USA)
GS1 Slovakia
GTS (Germany)
Hologram.Industries (France/USA)
Holoptica (USA)
Hueck Folien (Hong Kong)
Huizhou Foryou Optical Technology (FYOTEC) (China)
IHMA (UK)
Indonesian Government Security Printing & Minting Corp (Perum Peruri)
IQ Structures (Czech Republic)
Joh. Enschedé Security Print (Netherlands)
JPatton (USA)
Jura JSP (Austria)
KBA-NotaSys (Switzerland)
Kenya Revenue Authority
Kodak (Argentina)
Krones (Germany)
Lake Image Systems (UK)
Leonhard Kurz (Germany)
Lesotho Revenue Authority
Luminescence International (UK)
Madras Security Printers (India)
Massachusetts – (MA) – Department of Revenue (USA)
Mauritius Revenue Authority
McLane Company (USA)
Miladon Group (Canada)
Ministry of Finance (Poland)
Ministry of Finance (India)
Ministry of Finance (Liberia)
NabuAdvisors (USA)
National Board of Revenue (Bangladesh)
National Customs Service (Ecuador)
National Tax Service (Korea)
New ProImage (USA)
New York University (USA)
North American Security Products Organization (NASPO) (USA)
Northern Virginia Cigarette Tax Board (USA)
Oberthur Fiduciaire (UK)
Office of Tax & Revenue, Washington DC (USA)
Office of the Sheriff (USA)
OpSec Security Group (UK)
Papeteries De Vizille (France)
Petrel (France)
Philip Morris (Canada)
Polish Security Printing Works (PWPW) (Poland)
Red Stamp (USA)
Reemtsma Cigarettenfabriken (Germany)
Revenue Agency (Paraguay)
Revenue Commissioners (Ireland)
Rolland Enterprises (Canada)
Securikett Ulrich & Horn (Austria)
Servicio Nacional de Aduana del Ecuador (SENAE) (Ecuador/Chile)
SICPA (Brazil/Switzerland/Turkey/UK/USA)
South African Revenue Service
Sovereign Border Solutions (South Africa)
Spectra Systems Corporation (USA)
Sri Lanka Customs
Stardust Europe (Estonia)
State of NJ Dept of Treasury (USA)
Tanzania Revenue Authority
Tax Administration Jamaica
Tax Authority of Guatemala
Thomas Greg & Sons (Colombia/Peru)
Transelan Inc (Canada)
Turkish Revenue Administration
UAB Garsu Pasaulis (Lithuania)
US Government Accountability Office (GAO) (USA)
VALID (Brazil)
Venture Global Consulting (USA)
Washington (DC) Office of Tax & Revenue (USA)
Wood & Associates (USA)
Xerox Corporation (Spain)
Xerox State & Local Solutions (USA)
Zambia Revenue Authority
Zimbabwe Revenue Authority
Zollkriminalamt (Germany)
'A Huge View of the Tax Stamp Field'
As the only event that brings together the relatively small global tax stamp community, the 6th Tax Stamp Forum™ – held in Miami from 11-13 November – was generally lauded by its 250 attendees.
Since its inception in 2009, the Forum has grown in attendance by more than 60%. In addition, this year's event welcomed an increasing number of revenue, customs and enforcement authorities, with 35 in total, from all over the world, in attendance.
This growth is testimony to the increasing support from suppliers and governments alike, who see the value of having a dedicated event such as this. But the increased support was not only manifested in numbers; it was also evidenced by the positive attendee feedback.
If there was one piece of feedback that really stood out, it was how much delegates valued being able to meet and learn from others – whether from different players in the supply chain or different places in the world.
This is what some of the delegates had to say:
An industry supplier: 'Informative, with a huge view of the tax stamp field. Opportunity to exchange with industry experts'.
A US tobacco products distributor: 'First year of attending and much information of value was obtained as well as beneficial contacts made. I look forward to further involvement'.
A security printer: 'Very diversified presentations covering a large range of questions such as RFPs, standards, security features, innovations, experiences of governments'.
A law enforcement officer: 'I have learned a lot from different solution providers and administrations in terms of the challenges which are facing all of us'.
An African revenue authority: 'The conference was an eye-opener. It gave an in-depth view of what is to come and allowed us to think futuristically to combat issues to deal with illicit trade'.
Another African revenue authority: 'Over-exceeded my expectations. I have learnt a lot and this will definitely benefit my country tremendously. Our country doesn't have a tax stamp yet but this conference is the starting point'.
A Latin American revenue authority: 'Excellent conference, very interesting. It's a 'must-go' event before the implementation of a tax stamp security system'.
The feedback also pointed to some areas for further improvement, which Reconnaissance will be focusing on for the next Tax Stamp Forum. This included suggestions that more time could be dedicated to real-life situations and case studies, with increased audience participation.
Furthermore, while this year's Forum welcomed more government issuers than ever before, one of the goals for next time is to attract an even larger government delegation, in order to create a better commercial/government balance.
Image Gallery
The 2015 Programme
Wednesday 11 November
Pre-Conference WorkshopThe A-Z of Coding Solutions for Tax Stamps
Thursday 12 November
Session OneOverall Landscape and Standards
Nicola Sudan, Tax Stamp News (UK)

Opening Remarks and Overview of Tax Stamp Landscape

Francis Goossens, Thomas Greg (Colombia)

Launch of an Association for Tax Stamps

Ian Lancaster, Reconnaissance International (UK)

Progress Towards an ISO Standard: Defining the Scope

Alex Finkel, SICPA Product Security, Meyercord Revenue (US)

Fit for 2020: Adapting Capability for Customers, Cooperation and Collaboration

Luk Joossens, Association of European Cancer Leagues (Belgium)

An Update on Recent Developments of the WHO FCTC Protocol, WHO and EU
Session TwoRegulatory and Enforcement Landscape
John W Colledge, Former Law Enforcement Professional (US)

Opening Remarks and Overview of US Laws Related to Tobacco and Alcohol

Michael Yates, Sovereign Border Solutions (South Africa)

Key Findings of the EU Feasibility Study for Traceability and Security Features

Maurice "Mo" Gilmore, Arkansas Tobacco Control Board (US)

Arkansas – An Examination of a Comprehensive US State Tobacco Enforcement Programme

Sgt Jeffrey Karran, Royal Canadian Mounted Police

Canada's Illicit Trade Hotspots (in Particular First Nation Reservations)
Session ThreePanel Discussion – Around the World in 80 Minutes
Jerome Horton, Board of Equalization, California

Xavier Cardenas, Servicio Nacional de Aduana del Ecuador

Florian Hertel, Zollkriminalamt, Germany

Aftab Baloch, Federal Board of Revenue, Pakistan

Jorge Gaona, (formerly) Subsecretaría de Estado de Tributación, Paraguay

Moderator: Sven Bergmann, Venture Global Consulting (US)
Session FourAnatomy of the Modern Tax Stamp (1)
Barna Barabas, Jura (Hungary)

It All Begins With the Design

Leo Lemark, AM-PG Group (Armenia)

New Optical Nano Colour-Shifting Tax Stamps with Customised Watermark

Tim Sandford, Bowater Industries (UK)

Making Holograms an Effective Visual Security Element of Tax Stamps

Nick Cooper, Luminescence (UK)

Innovations in Security Inks for Tax Stamps

Ladislav Janco, GS1 Slovakia

Unique Identification of Tax Stamps
Friday 13 November
Session FivePanel Discussion: Creating an RFP for a New Tax Stamp System - Putting Round Pegs into Round Holes
Michael J Thorne- Begland, Altria Client Services (US)

John W Colledge, Former Law Enforcement Professional (US)

Caxton Masudi Ngeywo, Kenya Revenue Authority

Richard Ward, NASPO (US)

Mark Deakes, Reconnaissance International (UK)

Michael Eads, Sovereign Border Solutions (South Africa)

Moderator: Randall Burgess
Session SixAnatomy of the Modern Tax Stamp (2)
Quentin Van Den Hove, Agfa Graphics (Belgium)

Using Copy-Sensitive Track and Trace Codes and Security Design Tools

Cary Quinn, Graphic Security Systems (US)

Designing Optical Security with the Smartphone in Mind

George Perkous, Holoptica (US)

Making Holograms an Effective Visual Security Element of Tax Stamps

Michael Eads, Sovereign Border Solutions (South Africa)

Material-Based Security in a Digital Age

Michael Banahan, OpSec Security (US)

50 Shades of Tax Stamp – A Review of Global Tax Stamp Security and Reporting Demands
Session SevenQuality Control and Application
Nick Khatri, Lake Image Systems (UK)

The Contribution of Reading and Inspection Systems to a Successful Track and Trace Programme

Rolf Manser, Blumer Maschinenbau (Switzerland)

The Tax Stamp Cutting Process

Geoff Gauger, Krones (US)

Applying the Stamp to the Product
Session EightCase Studies and Best Practices
Emma V Teodoro, APO Production Unit (Philippines)

The Philippines Experience

Swaraj Sunassy, Mauritius Revenue Authority

The Mauritius Experience

Michel Mariton, Hologram Industries (France)

Meditag Malaysia – How it's Done on Pharma Products

Evan J Garcia, Massachusetts Department of Revenue (US)

The Massachusetts Experience

Faruk Gozubuyuk, Turkish Revenue Administration (Turkey)

The Turkey Experience (title to be confirmed)
Thank you to our sponsors and exhibitors
Gold
AM-PG GROUP
Jura JSP
Madras Security Printers
Exhibitor
Advanced Track & Trace
AGFA Graphics
Allexis s.r.o
APO Production Unit
Art-Line Projekt
Blumer
Complete Inspection Systems
Excel Systems
Fyotec
Graphic Security Systems Corporation
SURYS
Holoptica
Lake Image Systems
LEONHARD KURZ Stiftung & Co.
Luminescence International
Opsec
Papeteries De Vizille
Petrel
REDSTAMP
Spectra Systems Corporation
Stardust
Excellence in Tax Stamp Awards