Over 250 delegates from more than 127 organisations and 53 countries attended the Tax Stamp Forum which took place in Berlin in January 2017.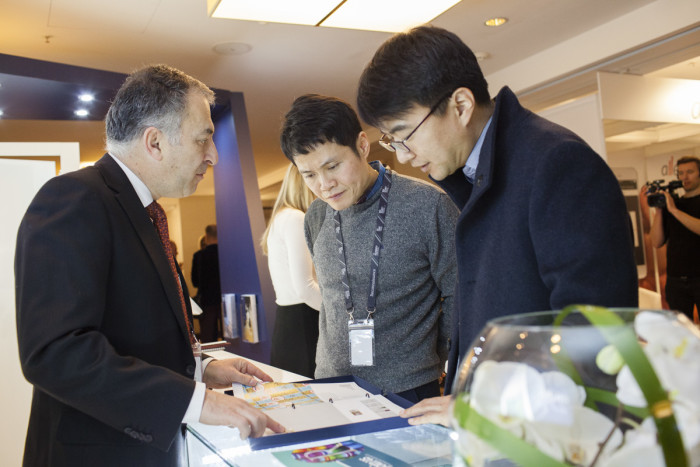 Downloads
Attendees can access selected presentations and audio recordings
Download presentations
You will need the password provided at the event. Contact us if you need help accessing the downloads site.
Conference Review
'The event was very good, better than
past events. Not sure why, but maybe
the topic is gaining an importance and
discussions are rich in detail. Tax stamps
are becoming more sophisticated'
This quote from one of the delegates at the 7th Tax Stamp Forum, held in Berlin, Germany, says it all.
The Forum continues to grow in attendance year on year, having expanded by more than 60% since its inception in 2009. Crucially, this expansion is in part due to the increasing patronage of revenue and customs authorities from the world over, who are recognising the value of attending this 'one-of-a-kind' event.
The European location of this year's Forum certainly contributed to its success, given the attention currently being directed towards tax stamps as possible carriers of the unique identifiers and security features required under the EU Tobacco Products Directive.
So what did some of the other delegates have to say?
A tax stamp manufacturer: 'Great location. Variety of presentations on a global scale. New technologies were covered well…'
A revenue authority: 'This was an informative, interactive meeting, critical for stakeholders in tax stamp programmes'.
Another revenue authority: 'Excellent conference, well organised and good programme of speakers. Perhaps more speaker sessions for government officials might be of benefit'.
All in all great feedback, with some constructive input for the next Forum. Indeed, one of the key suggestions for improving the 2018 event, voiced by some of the revenue authorities, was to hold a separate meeting just for them at the beginning of the Forum, as well as to be provided with more guidance on how to 'navigate' through the Forum with regard to approaching different solution providers.
So a huge thank you to all our 2017 delegates for your continued support and input, and we look forward to an even bigger and better Forum in spring 2018!
Attendees
AB In Bev (UK)
Advanced Track and Trace (France)
Agfa Graphics (Belgium)
Albanian Revenue Authority
Allexis (Slovakia)
Altria Client Services (USA)
Angstrom Technologies (USA)
Antigua Customs Research Development (Antigua and Barbuda)
ANY Biztonsagi Nyomda Nyrt (Hungary)
APO Production Unit (Philippines)
Ashton Potter Security Printers (USA)
Association of European Cancer Leagues (Belgium)
Atlantic Zeiser (Germany)
Authentication Solution Providers' Association (ASPA) (India)
Avery Dennison (Netherlands)
Baltic Banknote (Latvia)
Bangladesh Tariff Commission
BASF (France)
Beijing Kesiyuan Technology (China)
Blumer Maschinenbau (Switzerland)
British American Tobacco (UK)
Bundesdruckerei (Germany)
Canadian Bank Note Company
Cartor Security Printing (France)
Casa da Moeda do Brasil (Brazil)
CCL Package Label (France)
Centro Grafico (Italy)
Chanwanich Security Printing (Thailand)
Customs & Excise Office Department (Belize)
Customs & Excise Unit (Luxembourg)
Customs, Illicit Trade and Anti-Money Laundering (USA)
Cybernet (Azerbaijan)
De La Rue (UK)
Department of Colorado (USA)
Diagramm Halbach (Germany)
DLR Security Concepts (Ireland)
Domino UK
Drewsen Spezialpapiere (Germany)
Ellams (Kenya)
Enigma (Brazil)
Estonian Tax and Customs Board
Ethiopian Revenue and Customs Authority
European Commission DG Taxation and Customs Union (Belgium)
Europol (Netherlands)
Excise Department of Sri Lanka
Federal Board of Revenue (Pakistan)
Federal Inland Revenue Service (Nigeria)
Federal Printing Solutions (Belgium)
FGUP "CentreInform" (Russia)
FNMT – RCM (Spain)
Garsu Pasaulis (Lithuania)
Giesecke & Devrient (Germany)
Gietz (Switzerland)
GOZNAK (Russia)
GTS (Germany)
Honeywell (USA)
Hueck Folien (Austria)
Hungarian Banknote Printing Company
Imprensa Nacional – Casa de Moeda (Portugal)
INEXTO (Switzerland)
International Tax and Investment Center (USA)
IQ Structures (Czech Republic)
Istituto Poligrafico e Zecca dello Stato (Italy)
Jamaica Customs Agency
Joh. Enschede Security Print (Netherlands)
JTI (Belgium)
Jura (Austria)
KBA-NotaSys (Switzerland)
Kenya Revenue Authority
KOMSCO (South Korea)
Krypten (Russia)
Lake Image Systems (UK)
Leonhard Kurz (Germany)
Lesotho Revenue Authority
Liberia Revenue Authority
Luminescence International (UK)
Madras Security Printers (India)
Mauritius Revenue Authority
Mincovňa Kremnica (Slovakia)
Ministry of Finance (Czech Republic)
Ministry of Finance (Poland)
Ministry of Finance (Bulgaria)
Ministry of Finance & Development Planning (Liberia)
Ministry of Finance, Customs, and Excise Administration (Belgium)
Ministry of Taxes of Azerbaijan
Mitchell Halton Watson (UK)
Mozambique Revenue Authority
National Tax and Customs Administration (Hungary)
Newmec (Italy)
Nigeria Customs Service
Office of the Revenue Commissioners (Ireland)
OpSec Security Group (UK)
Philip Morris International (Switzerland)
PWPW (Poland)
QBSW (Slovakia)
Reemtsma Cigarettenfabriken (Germany)
Reneant Solutions (Ghana)
Revenue Protection Division (Jamaica)
Rolland Enterprises (Canada)
Royal Malaysian Customs Department
RUE Minsk Printing Factory (Belarus)
Securikett Ulrich & Horn (Austria)
Seychelles Revenue Commission
SICPA (Switzerland)
Sovereign Border Solutions (South Africa)
Sri Lanka Customs
Stardust Europe (Estonia)
State Revenue Service Customs Authorities (Latvia)
Statni Tiskarna Cenin (Czech Republic)
SURYS (France)
Tanzania Revenue Authority
Tax Administration Jamaica
TechTrace (Switzerland)
The Excise Department (Thailand)
Thomas Greg & Sons de Colombia
Uganda Revenue Authority
UN Interegional Crime and Justice Research Institute (Switzerland)
University of Lausanne (Switzerland)
Venture Global Consulting (UK)
Image Gallery
The 2017 Programme
You can download the 2017 brochure here to see the speakers and workshops which were held in Berlin.
Thank you to our sponsors and exhibitors
Many thanks to the following sponsors and exhibitors for taking part in our wonderful exhibition running alongside the conference:
Platinum – Allexis
Gold – Hueck Folien, Madras Security Printers, SICPA
Silver – Bundesdruckerei, Drewsen Spezialpapiere, KBA-NotaSys
Exhibitors – Advanced Track & Trace, AGFA Graphics, ANY Security Printing Company, Atlantic Zeiser, Beijing Kesiyuan Technology, Blumer, Domino UK, Gleitsmann Security Inks, Gietz, GTS, Hungarian Banknote Printing Company, International Tax Stamp Association, Jura, Lake Image Systems, Leonhard Kurz, Luminescence International, OpSec Security, PARVIS, Stardust
Excellence in Tax Stamp Awards