Back to reports and directories
See How Tax Stamps Are Evolving
This essential guide explores the characteristics and function of modern tax stamps - and the security elements they contain.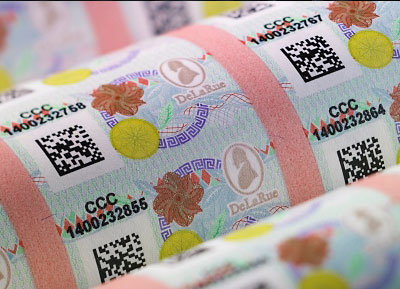 Published by Tax Stamp News, this special report provides an excellent introduction to the industry for the specifiers and issuers of excise tax stamps.
It looks at all aspects of today's modern tax stamps – and describes both traditional and technological components.
The report was published in April 2016. It is available in print and pdf formats.
…contains very interesting information derived from the experience of other tax administrations which are in the same situation as us
Tax authority in Latin America
Complimentary copies
The report is provided free to all customs, excise and revenue agencies.
It will also be distributed to law enforcement departments and other government organisations involved in the specification, procurement and enforcement of tax stamp programmes.
Subscribers to Tax Stamp News can receive a copy at a special discounted rate.
What's Inside
What does an excise tax stamp look like today, compared to what it used to look like? What are the drivers that have shaped the modern stamp and what are the individual parts of that stamp that make up the whole? What role does the stamp have today that it did not have before?
These are the questions addressed in this first special tax stamp report.
It dissects the stamp and describes the characteristics and function of each dissected piece – from the material elements of substrate, printing methods, ink and multilevel security features, to the digital elements of unique coding and associated track and trace systems.
The report also looks at the tax stamp as a whole by referring to different stamp programmes currently being used across the world.
Included in this special report:
The Evolution of Tax Stamps
Substrates and Embedded Security
Printing Processes
Holograms
Security Inks
Taggants
Unique Identifying Codes
The Physical/Digital Link
Track and Trace
Who Should Read It
Tax stamp issuing authorities (ministries of finance, revenue, treasury departments)
Customs and excise departments
Law enforcement and investigative services
Manufacturers, distributors and wholesalers of tobacco and alcohol products
Security printers – state-owned and commercial
Security labelling and converting companies
Systems and equipment manufacturers
Project manager and systems integrators
Suppliers of security substrates, components, authentication technologies
How to Order Your Copy
The Anatomy of a Tax Stamp is available in printed format or as a pdf.
The price is the same for either option. Buy both and save 25%.
Government Agencies and NGOs
First print copy free of charge
Tax Stamp News Subscribers
First print copy free of charge
Pdf format and additional print copies - £30 (€39 or $50)
Non-Subscribers
Either print or pdf format - £180 (€234 or $297)
Both print and pdf format - £270 (€351 or $446)
Download an order form
Anatomy of the Modern Tax Stamp is available in both print and pdf formats. The pdf price does not include internal distribution. If you would like to distribute the pdf within your organisation, contact us for a corporate price.
Alternatively, to receive your copy of this essential guide, provide us with your contact details.
Other ways to order your copy
Subscribe to Tax Stamp News
To receive a free copy of this report, subscribe to Tax Stamp News
How to Subscribe