Social events are included as part of the conference, providing a perfect opportunity to meet other delegates and make new contacts in a more informal setting.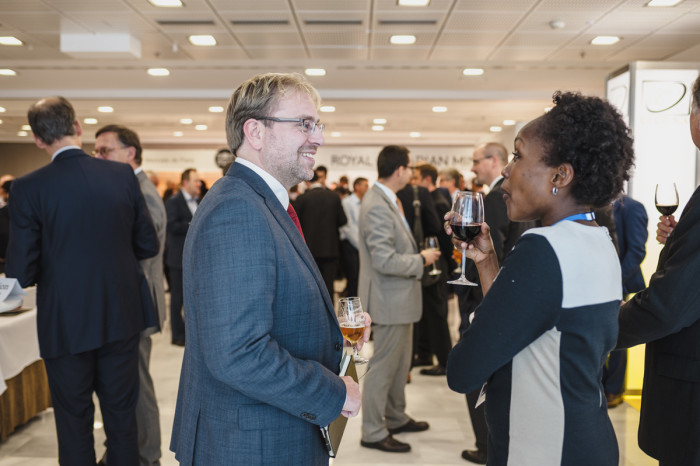 During the conference delegates have the chance to meet fellow industry colleagues during the breaks which take place in the exhibition, along with the lunches. The conference also plays host to drinks receptions each evening and a gala dinner giving you the chance to meet people in a more informal setting.
More details about the social events will be released closer to the date of the conference.
Mint of Poland Production Hall Tour
Central Banks only on a first-come-first served basis
Being an undisputable leader in the high-end technologies, the Mint of Poland sets new standards in the field of monetary art.
They strike tailor-made coins for domestic and international customers, including Narodowy Bank Polski (the central bank of Poland), the Dominican Republic, the Republic of Colombia, the Republic of Armenia, Georgia, the Republic of Belarus, the Kingdom of Thailand, the Oriental Republic of Uruguay, the Republic of Paraguay, the Lebanese Republic and the Republic of Guatemala.
As one of three most technologically advanced minting facilities in the world equipped with 15 highly efficient coin presses and a fully-automated packaging line, the Mint has the annual production capacity of 2.5 billion monometallic and1 billion bi-metallic coins.
In 2016, they moved their machine park to a new production hall located next to Annopol street, Warsaw, where they employ approx. 200 members of staff. With 7,800 square meters of space, the building offers new production opportunities to serve domestic and international customers with the utmost quality of coinage.
Numbers will be limited for this tour, with 2 groups,  if you would like to join please email: [email protected]
Please indicate which group you would like to take part in and supply the following – full name, e-mail address, company, passport number, position in the company and also preferred language for the tour (English, Russian or Spanish).
Group 1 –  09.15hrs departure from the Marriott Hotel, returning around 13.00hrs.
Group 2 – 12.20hrs departure from the Marriott Hotel, returning around 16.00hrs.
Delegates must be aware, that they cannot take into the production hall any objects such as cell phones or coins (there will be controls with metal detectors).
There will be individual cabinets for each delegate for their personal belongings to be stored.
It is important that participants have their passports with them for security control.
Football
Sponsored by Monea, on Wednesday 25th October we will hold a 'Coin Football Match', played between the delegates. Spectators and players (of any skill level) are always welcome – if you would like to attend, please email [email protected]
Transport is provided to and from the pitches for both spectators and players.