Our seminars enable you to gain an in-depth understanding of a topical issue.
Run by leaders in their field, these seminars provide best practice advice and case study examples to enhance your professional knowledge.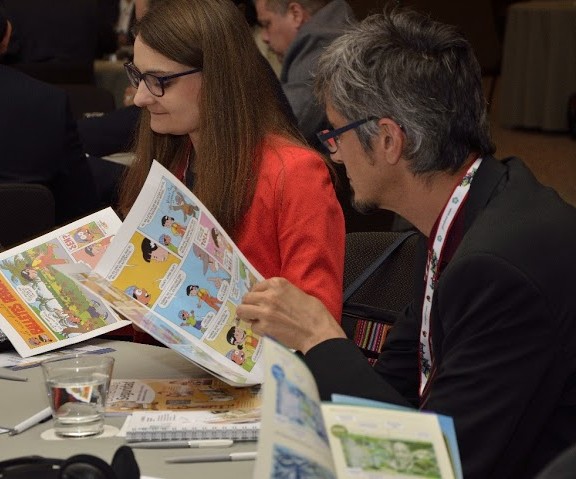 Durability of Banknote Substrates and Banknotes – Testing Regimes and Systems
Monday 19 June | 09:00 - 12:00
The variety of banknotes is as varied as their number in circulation as no two are the same! How should they be specified and what are the tests that can be applied to ensure their specification is met?  What tolerance should be allowed? How can new features be tested in advance for durability and performance? What circulation simulation systems have been developed and how good are they at predicting results in the field? And is there a case for the industry to develop a standard test for predicting durability?
The seminar will review the testing regimes for banknote substrates – covering their strengths and weaknesses0- and explore whether they are fit for purpose.  It will  also cover whether the substrates are meeting the specifications, and whether those specification are the best they can be.
The objective of the seminar is both educational and developmental, and will encourage open debate on how the current situation can be improved and how, in particular,  test or series of tests can be established that will predict fairly accurately how a new banknote or series will perform in circulation.
It will be led by Dr David Tidmarsh of Reconnaissance International,  a veteran of substrates and features in the banknote industry, supported by a number of experts from substrate suppliers and users.
Methods of Counterfeiting Travel and Identity Documents and the Use of Commercially Available Products for Simulation of Genuine Documents and Features
Monday 19 June | 14:00 - 17:30
Using real-life cases, this workshop will offer a practical overview of the various methods used for altering, tampering with and counterfeiting of passports and ID documents. It will look at commercially available products that can be used in counterfeits, and how these products can deceive both professional and layman into believing the item is genuine. The discussion will also encompass the examination, comparing and contrasting of genuine security documents and commercial products as well as high-end examples of simulated features in paper, print, plastic and OVDs, and how people respond to such examinations.
The workshop will be presented by Tyra McConnell, Forensic Document Examiner, U.S. Department of State and Jordan Brough, Forensic Document Examiner, U.S. Department of Homeland Security, and will give participants an opportunity to discuss in detail the latest techniques used by document examiners to deter altered and counterfeit travel and identity documents.
| | Pre-Conference Seminars | Pre-Conference Seminars (Government) |
| --- | --- | --- |
| One Seminar | $490 | $0 (free to attend) |
| Both Seminars | $720 | $0 (free to attend) |
NB. Government delegates can attend these seminars for free.  The government rate applies to issuing authorities only, ie.  government departments responsible for the issue of banknotes (central banks), or passports, ID cards and documents, revenue stamps, health cards, vehicle registration documents etc only, as well as customs, immigration and law enforcement agencies